Bangkok's Chinatown seeks to preserve its soul
New transit links are a mixed blessing that could to alter the character of a historic district
PETER JANSSEN, Contributing writer
As the seething commercial heart of Bangkok's mainstay Sino-Thai community, Chinatown has survived political upheavals and economic downturns over nearly two centuries. But the advent of the area's first metro station is being seen by residents as a mixed blessing that could further erode the historic character of one of the world's largest Chinatowns.
Set to officially open this weekend, Wat Mangkon (Dragon Temple) Station is part of an extension of Bangkok's subway system — running from the central Hua Lamphong Railway Station under the Chao Phraya River to Thonburi — that was originally supposed to open three years ago.
Chinatown is the capital's second-oldest quarter. It was created after the first king of the Chakri dynasty, Buddha Yot Fa Chulalok (Rama I), moved the capital in 1782 from the Thonburi side of the Chao Phraya River to the Bangkok side, which displaced the large Chinese merchant community that originally occupied the area. The Chinese relocated to the southeast of Rattanakosin, the new royal quarter, in an area called Sampheng, named after the narrow alley that passed through the swampy neighborhood. It is still a bustling shopping thoroughfare today.
Sampheng evolved organically with the growth of Bangkok. It swiftly became the kingdom's commercial hub. Imported goods flowed into Chinatown's Ratchawong port, while huge volumes of rice, timber and other raw materials were exported. Chinatown became a magnet for millions of Chinese immigrants fleeing wars and famines in their homeland and who found jobs in a city that initially suffered severe shortages of laborers and merchants.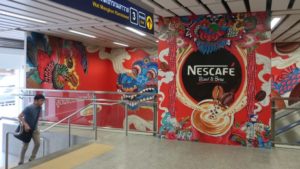 Between 1882 to 1955, some 3.5 million Chinese migrated to Thailand. Many stayed, working as laborers and small-time merchants. Some of them grew their businesses into what would become the giant conglomerates that dominate Thailand's economy today. For example, the Charoen Pokphand Group, one of the world's largest agro-conglomerates, started as a modest shop selling seeds on Songsawat Road in Chinatown. The shop is still there, called Chia Tai (the group's Chinese name), and is still selling seeds — a humble reminder of the origins of the vast business empire.
The father of Charoen Sirivadhanabhakdi, founder of the TCC Group and one of Thailand's biggest billionaires, started out in Sampheng selling a fried oyster dish outside his residence (the house is still there although not the oyster stall). TCC, which began as an alcohol distributor before moving into property, recently said it planned to develop a 20 billion baht ($654 million) complex, consisting of a luxury hotel, shopping mall and a "Chinese pagoda" in Chinatown. That is exactly the kind of development that worries Chinatown preservationists.
Yongtanit Pimonsathean, an architecture professor at Thammasat University and a member of the National Conservation Committee, has been struggling for decades to preserve Chinatown. One of his notable successes is the Luen Rit neighborhood, a community of shophouses built during the reign of Rama V (1868-1910). It took Yongtanit more than 10 years to help organize the Luen Rit community of some 220 families into a single unit to negotiate a new lease with the land's owner, the Crown Property Bureau, the monarchy's financial arm and one of the biggest landholders in Bangkok. The new lease gave the shophouse owners eight years to renovate their properties as long as they preserved the original architecture and two-story height limit and another 30 years to operate their businesses.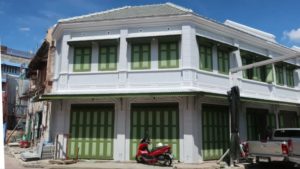 "This is the very first place in Thailand that we had this kind of a deal," Yongtanit said. He and other conservationist are pushing to have all of Chinatown included under a Bangkok Conservation Master Plan that already includes the Rattanakosin area. The plan requires cabinet approval, but with the current government unlikely to survive long, Chinatown's preservation remains precarious.
If anything, the opening of the Wat Mangkon Station in the heart of Chinatown is likely to hasten developments like the TCC project. "After talking to the communities around Wat Mangkon I think they are frightened about displacement," Yongtanit said. "If it's not a conservation area the old buildings can be converted into larger buildings."
A new hotel is already under construction next to the station. Originally the site was going to be a Holiday Inn Express, with the utilitarian air of a mass-market, three-star tourist hotel. But the owner in April sold the property to the Thailand-based Dusit International Hotel Group, which plans to convert the property into its first ASAI Hotel, a new three-star chain aimed at millennial travelers. The ASAI concept is to encourage guests to patronize neighborhood shops and restaurants and promote the local community rather than take business away from them.
"It was too late for us to do anything [about the hotel exterior]," said Siradej Donavanik, managing director of ASAI Hotels. "But I think we can put in a lot of soft touches in terms of the interior. We are very conscious of the neighborhood and the surroundings."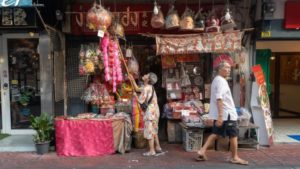 What is striking about Bangkok's Chinatown is how well it has been preserved so far. This is primarily because of the land ownership structure. While the Crown Property Bureau — which helps manage the considerable landholdings of the Thai royal family — owns about 30% of Sampheng, there are few other large plot holders, making it difficult to put up large developments. Most plots of land are very small and owned by families who do not want to sell because they are still doing business there.
There is the Tang Toh Kang Gold Shop, for example, which was established in 1875, making it Sampheng's oldest surviving gold shop. Chaikit Tantikarn's great grandfather started the shop that he now manages. But the Tantikarn family has not lived in Sampheng since World War II, when the Allied bombing of Bangkok forced them to flee to the suburbs. Even with the increased convenience of the metro station, Chaikit has no intention of returning as a resident.
"This is a business district, not a residential district," he said. "There are too many people, it is too noisy and there is no breeze or greenery. This is primarily a good place for selling stuff."
Sampheng is still a rabbit warren of small shops, selling everything from hairpins to Halloween costumes. While selling stuff is indeed the main activity in Chinatown, the scale has changed.
Sampheng used to be Bangkok's main retail and wholesale district. But as Bangkok expanded other retail hubs emerged. Sampheng's role as a central wholesale district has been gradually undermined by direct competition from China — the source of many items sold in the district — and by e-commerce. The Thai Textile Merchants Association, which opened in Sampheng in 1961, has seen its membership cut nearly in half to 253.
Wholesalers in the shoe sector, however, have done better. Suksan Aueareechon, managing director of Canotti 2204, opened his first wholesale office on Phat Sai Road in Sampheng in 2003 and now has three outlets. The road has been Thailand's main shoe wholesale hub for decades and remains so.
"If you want to go into the shoe business you have to come here," Suksan said. He no longer relies on just walk-in business, but uses social media for half his sales to find buyers as far away as Nigeria. But keeping a presence in Sampheng remains important. "You need to put one leg here and another leg online," said Suksan, who also owns the Baan 2459 boutique hotel and coffee shop on Phat Sai Road.
"I think the key term for businessmen in Chinatown is adaptability," Yongtanit said. If the district is to survive, it will need to preserve its cultural assets, which Yongtanit said consists of its buildings and bustling business atmosphere. The rapid rail service station, which will bring in more tourists, represents an "opportunity for both the government and the businesspeople to rethink what kind of assets they have to sell to society," he said.
Source: https://asia.nikkei.com/Life-Arts/Life/Bangkok-s-Chinatown-seeks-to-preserve-its-soul