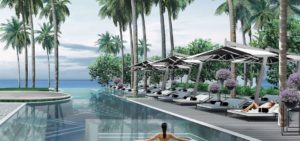 Thailand's Centara Hotels & Resorts' new luxury hotel brand set to debut in Thailand in 2020
Centara Reserve will offer sophisticated, story-driven hospitality at a beautiful Koh Samui retreat
Thailand-based hotel operator Centara Hotels & Resorts has unveiled plans for a new luxury hotel brand, Centara Reserve, celebrating sophisticated, story-driven hospitality with a collection of curated hotels in iconic destinations around the world.
The first hotel in the new portfolio will transform the current Centara Grand Beach Resort Samui in Koh Samui into Centara Reserve Samui, set to open at the end of the year. At Centara Reserve hotels, contemporary style fuses with classic evidence, with design elements, culinary offerings and resort experiences designed to evoke and inspire one-of-a-kind memories and stories for guests.
Focusing on this ethos, one-of-a-kind dining and social experiences will be at the heart of each Centara Reserve. At Centara Reserve Samui, a juniper-based bar will showcase more than 100 craft options, cheese fans can get their fix at a stylish mozzarella bar and a beautiful beach club will line the resorts golden sands, serving up the freshest line-caught local seafood.
Encouraging guests to embrace every element of island life on offer in Koh Samui, immersive cultural and local artisanal tours will allow guests to experience more than just the resort during their stay.
GUEST ROOMS
The new refined retreat will open at the end of 2020, and totally reimagines the current property. Centara Reserve Samui will fuse international and Thai-inspired elements across 184 brand new luxury rooms, pool suites and beachfront pool villas, serviced by 'Reserve Hosts', the brands unique take on exclusive butler service. The world's first Cenvaree Reserve Spa will complement the hotel's focus on bespoke offerings, providing guests with the utmost luxurious levels of pampering.
The design transformation has been overseen by AvroKO, famed for projects at acclaimed hotels such as 1 Hotel Central Park in New York, The Waldorf Astoria Bangkok, and The Temple House in Chengdu, China.
After Centara Reserve Samui, Centara will add two further Centara Reserve hotels to the collection in desirable, as of yet unannounced destinations around the globe.
Source: https://www.cntravellerme.com/centara-reserve-new-luxury-hotel-brand-launching-in-thailand-in-2020