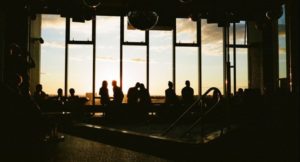 Thailand set to get 'The Standard' brand hotels
01 April 2019
Firm eyes hotel management in four cities,  teams up with Thai developer Sansiri
US-based Standard International, the parent company of The Standard Hotels and the Bunkhouse Group, plans to manage four new hotels in Thailand in view of the continuous growth in tourist arrivals in the country, the company's chief executive officer Amar Lalvani said in an interview with the Nation last week.
The four hotels in Thailand to come under The Standard brand will be located in Bangkok, Phuket, Pattaya, and Hua Hin.
The move in Thailand is the first step of its plan to add 15 new hotels to its management rights, under which properties in 12 Asian and European cities will come under The Standard brand including Bangkok, Phuket, Pattaya, Hua Hin, London, Paris, Lisbon, Mexico City, Chicago, the Maldives and Jakarta.
Three other new properties in Austin, New Orleans, and Atlanta will operate as Bunkhouse hotels.
The first hotel in Thailand, to be managed by Standard International, will open in Phuket in 2021, followed by three others in Hua Hin, Pattaya and Bangkok. The four projects will create 1,000 jobs, Lalvani said.
Meanwhile, The Standard London at Kings Cross will open in June, followed by the property in Maldives in the third quarter, he said.
The company currently manages five hotels under The Standard brand and seven under Bunkhouse in the US.
Under the plan, the company will have 27 hotels under its management by 2023 with 3,000 rooms, from the 1,200 rooms it currently handle: 1,000 under The Standard, 200 under Bunkhouse.
It will also increase the annual revenue of the company's hotel business from $200 million last year to $500 million in 2023, based on an average occupancy rate of 75 per cent. The 12 hotels currently under its management record an average occupancy rate of 85 per cent, he said.
"We will take 5 per cent of the new hotels' total revenue as the manager and not owners of the properties," Lalvani said.
The company started expanding in Asia and Europe when market opportunities emerged.
In Thailand, it has teamed up with Thai developer Sansiri Plc, which holds a 35 per cent stake in Standard International , he said.
Sansiri will invest in the development of three hotels in Hua Hin, Bangkok, and Pattaya, to be managed by Standard International. Though the Phuket hotel will be built by another property company, Sansiri plans to develop residential projects in its proximity.
"At the moment, we cannot say how much we will invest in the hotel and residential projects in Hua Hin, Bangkok, Pattaya and Phuket. We have yet to finalise the overall plan, aimed at generating recurring income to our business under a new model," said Sansiri president Srettha Thavisin.
"The Thai election will have no impact on our business expansion in Thailand, given the growing demand for hotel accommodations," Lalvani  said, adding that the company is also pursuing opportunities in China, Japan, India and Australia.
"If ongoing negotiations succeed in the four countries, the company could have more than 15 new hotels under its management by 2030," said  Lalvani.
The company plans to launch a new service under a new brand this year to provide consultancy and support to hotels in need of renovation or extending their properties.
"We will offer our expertise on renovation, decoration and management. This is the new model to expand our business," he said.
New apps
The company has invested US$1 million (Bt32 million) in two new apps for the hospitality industry, after successfully launching "One Night", the hotel booking app developed by a startup.
The new app is "Lobby", designed for hotel guests to connect with employees for various purposes. It is now in use at The Standard hotels in the US and could be made available to other premises.
"Hey Stan" is the other new app, designed for room services. It will come into use this year.
"We have a team of four working on application development to constantly enhance our service. Customers want new experience and the convenience of using apps for all their needs during their stay at a hotel. Developing applications and new business models are our way to move forward. This is why people enjoy staying at hotels under The Standard and Bunkhouse brands," Lalvani said.
Source: