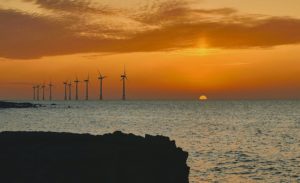 Vietnam's 48MW Tra Vinh Wind Power intertidal project has achieved commercial operation
Modern Energy Management (MEM) has achieved commercial operation for the 48MW Tra Vinh Wind Power (TWPC) intertidal wind farm project in Vietnam on behalf of project investors Climate Investor One and ST International.
Climate Investor One (CIO) is a blended finance facility delivering renewable energy infrastructure projects in emerging markets, and has been developing this project since 2017.
CIO is one of the funds managed by Climate Fund Managers (CFM) an investment manager proudly contributing towards mitigating and building resilience to climate change in the areas most affected by its consequences.
ST International (STI) is a South Korean energy company that is expanding its renewable energy project footprint.
TWPC is their first investment in Vietnam.
MEM's scope of work dates back to 2017 when it was engaged as owner's representative for development of the project.
MEM was then retained to manage completion of construction in order to ensure the TWPC project successfully achieved commercial operations ahead of the 1 November 2021 deadline.
Overall, 106 projects totalling 5.6GW of wind capacity were in construction for a planned feed-in-tariff (FIT) of 0.098USD (€0.09) for offshore and 0.085USD for onshore wind.
However, due to complications resulting from COVID, to date only 28 wind farms amounting to just 1.2GW (22%) of these projects have successfully met the deadline to qualify for the FIT.
CFM head of Asia Nathan Schmidt said: "MEM's work was really key to the success of this project.
"COVID made a challenging project much more difficult.
"Given the risk COVID delays presented to our feed-in-tariff, having a world class team was absolutely necessary to safeguard our investment."
STI's head of renewables Yonghoon Kim said: "MEM is a valuable partner because we worked together from the beginning to the end of TWPC project.
"Despite numerous COVID constraints, MEM and our project team successfully achieved COD prior to the FIT deadline.
"Appreciate again for the dedication and professionalism MEM has shown over the years.
"We are confident that MEM will responsibly complete the remaining windfarm's taking over processes and optimizing operational management."
"Wind projects in emerging markets are challenging", said Lars Lund, MEM's project director.
"Intertidal wind adds another layer of complexity.
"Given the tight timeline to achieve commercial operations in time to meet the deadline for the feed-in-tariff, the complications added by COVID meant that really, only the best planned projects and project teams were successful.
"Tra Vinh had a great team, and I think the work we put in planning during the development phase of the project really paid off."
Power demands are expected to double between 2020 and 2030 in Vietnam.
To meet that need, the target wind capacity in Vietnam continues to rise, with the Vietnam Energy Association planning a capacity of 15-20GW by 2030.
MEM supports investors of land based and intertidal wind projects in Vietnam with a current estimated capacity over 1.5GW.
Of that total, over 350MW are intertidal wind projects in various stages of development.
Source: https://renews.biz/74205/vietnamese-intertidal-project-comes-onstream/