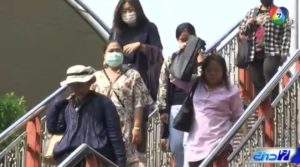 Thailand Population latest, Less Thais but the number of foreigners goes UP, More Thai women than men
Many people especially on online forums have suggested that foreigners were leaving Thailand in droves but the latest population figures seem to suggest otherwise.
The number of Thais has gone down but the number of foreigners in the kingdom has actually gone up slightly.
There was also continuing good news for men – there are even more Thai women to chose from!
Channel 7 reported that a falling birth rate was mainly responsible for there being 386,037 less people in 2020 compared to 2019.
An infographic showed that in 2019 there were 66.5 million people and last year there were 66.2 million.
In 2019 there were 65.6 million Thais and 940,000 non Thais.
Last year there were 65.2 million with Thai nationality and 950,000 foreigners up by 10,000.
In 2019 there were 32.1 million Thai men and 490,000 male foreigners. There were 33.5 million Thai women and 450,000 female foreigners.
Last year the number of Thai men had dropped to 31.8 million while the numer of non-Thai males had gone up to half a million.
Females of Thai nationality dropped to 33.3 million last year but the number of foreign women remained at 450,000.
Areas with the highest population remained as before with Bangkok the highest followed by Nakhon Ratchasima, Ubon Ratchathani, Chiang Mai and Khon Kaen.
Source: Channel 7 & Thaivisa