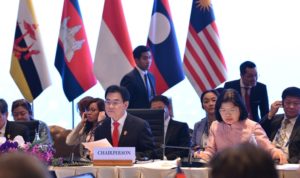 Thai Government seeks more funds from Beijing for three projects including Bangkok-Kunming Highway
Deputy Prime Minister Jurin Laksanawisit led other Asean ministers in discussions with China on upgrading their trade partnership, aiming to obtain an additional 130 million yuan (Bt557.7 million) for three projects including a highway linking the Thai capital to Kunming in the southern Chinese province of Yunnan.
Jurin, who is also the commerce minister, said after the 18th Asean-China Economic Ministers Meeting in Bangkok on Monday that the next step is to improve cooperation in three aspects.
"[Some members of] Asean and China have had a free trade agreement, or FTA, for more than 15 years," he said. As of August 2019, all the bloc's members have signed the Asean-China free trade agreement. "From now on we will focus on opening markets for additional products, improving existing regulations to suit modern trading, and preparing for future investment policies," he added.
According to the deputy PM, China has established a Mekong-Lanchang Cooperation fund of 300 million yuan to support Asean operations.
"We have already assigned 50 million yuan of this fund to prepare an online platform for Asean tourism and the training of entrepreneurs regarding rules of product origin," Jurin said.
"After this meeting, Thailand aims to seek additional funding of 130 million yuan from China to support three projects," he said. "These projects are the R3A Highway connecting Bangkok to Kunming, development of new-generation entrepreneurs, and development of online trading among Cambodia, Laos, Myanmar, Vietnam and Thailand."
The Chinese delegates have acknowledged this request and will seek advice, Jurin said.
In 2018, trade between Asean and China exceeded $479 billion (Bt14.6 trillion), making the Asian giant Asean's biggest trading partner responsible for 17 per cent of the regional bloc's global market share.
Source: https://www.nationthailand.com/news/30375987