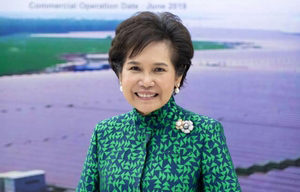 B Grimm Power alots 38.5 billion Baht till 2022 in Asean
The company has earmarked the money for investment.
The Nation
10 September 2019
B Grimm Power Plc has set aside more than Bt38.5 billion for investment in its power projects with the aim of achieving 5,000 megawatts by 2022, the company's chief executive officer Preeyanart Soontornwata said after opening its largest solar farm electricity plant in Tay Ninh, Vietnam in last week.
"We will focus on green energy such as solar, wind and hydropower in Thailand and others countries in Asia," she said.
The company is currently developing renewable energy in Thailand, Vietnam, Laos, Cambodia, South Korea, and the Philippines through 17 co-generation plants, 24 solar PVs, three hydro-power plants, one industrial waste-to-energy project, and a diesel generation with a total capacity of 2,896 megawatts.
The company is looking to expand investment in Malaysia, Cambodia, South Korea, and the Philippines by focusing on green energy such as wind, solar, and gas.
In Vietnam, the company aims to expand the capacity of its solar energy production of Dau Tieng 1 and Dau Tieng 2 with Dau Tieng 3. The Dau Tieng 3 plant will have production capacity of 120 megawatts. In South Korea, the company is looking to invest in wind energy by collaborating with a South Korea firm to invest in a wind energy project, while its interest in Malaysia includes investment in a combined cycle gas electricity plant in collaboration with its Malaysian partners.
Meanwhile, the company has continued to expand its investment in green energy in Thailand covering solar farm, wind, and waste.
Following the investment plan, the company expects revenue from overseas will increase from 25 per cent to 30 per cent of total revenue in 2022, with the next 70 per cent coming from the domestic market.
She added that the company's investments will come from both the company's cash flow and loans from both commercial banks and the bond market with a debt-to-equity ratio of not over than 2:1.
"We now have debt-to-equity ratio about 1.6:1 that has room enough to find the funding to serve our investment plan," she said.
With the plant in Vietnam now in operation, the company believes that revenue in 2019 will grow between 15 per cent and 20 per cent compared to the same period of last year, she said.
The company reported total revenue Bt37.22 billion and net profit Bt1.86 million for 2018 and Bt21.29 billion and Bt1.15 billion respectively for the first half of this year.
Source: https://asianews.network/2019/09/10/b-grimm-alots-38-5-billion-baht-till-2022-in-asean/