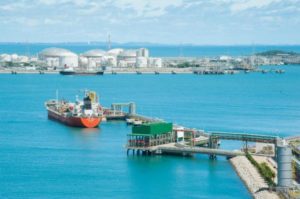 Thai Cabinet okays development of Map Ta Phut port 3rd phase
12 June 2019
The cabinet has approved a development deal for the third phase of Map Ta Phut port, one of five megaprojects under the Eastern Economic Corridor (EEC) scheme.
Nathporn Chatusripitak, a spokesman for Deputy Prime Minister Somkid Jatusripitak, said the cabinet approved a renegotiated result for the third phase of Map Ta Phut port between the EEC Office and the Industrial Estate Authority of Thailand (IEAT) and the winning bidder, a consortium led by PTT and Gulf Energy Development.
On May 21, the cabinet dismissed a proposal by the EEC Office and IEAT to reduce returns on investment for bidders for the third phase.
The bidder requested reducing investment returns to the government by 2.70 billion baht from 9.31 billion proposed in the feasibility study, citing higher financial costs.
The cabinet instructed the two state units to renegotiate with the bidder.
Upon renegotiation, the winning bidder has agreed to raise returns on investment for the project to 6.721 billion baht, up from 6.61 billion.
The IEAT plans to spend 710 million baht for annual land reclamation, down from a previous proposal of 720 million.
The Map Ta Phut auction attracted 18 firms to buy bid envelopes, but only one bidder, a consortium led by PTT and Gulf Energy Development, qualified for all the criteria to bid on the project worth 55.4 billion baht.
The bidding is in the form of a public-private partnership.
The project, located in Rayong, is expected to start construction in 2023 and begin operation in 2025.
The five EEC infrastructure projects totalling 650 billion baht are expected to be awarded by June after being delayed for three months.
The other four megaprojects comprise a high-speed railway linking three airports (225 billion baht); U-tapao aviation city (290 billion); a maintenance, repair and overhaul centre (10.6 billion); and the third phase of Laem Chabang seaport (114 billion).
The five schemes are projected to propel GDP, with new investment flows reaching 10% per year in the next five years, said Kanit Sangsubhan, secretary-general of the EEC Office.
Source: https://www.bangkokpost.com/business/news/1693408/cabinet-okays-map-ta-phut-3rd-phase