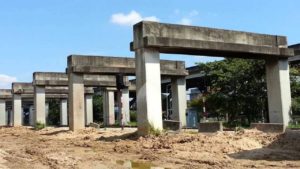 Hopewell project's structures hinder Bangkok's high-speed airport link of Thailand's major airports
12 June 2019
The unsettled Hopewell saga may now delay the construction of the high-speed train system to link up the country's major airports, as the State Railway of Thailand (SRT) remains uncertain what to do with 288 poles left from over two decades ago.
The SRT is still in talks with Hopewell (Thailand) regarding the Supreme Administrative Court's order for the SRT to pay the company 37 billion baht in compensation within 180 days, said Worawut Mala, agency's acting governor, on Tuesday.
On April 22, the Supreme Administrative Court ordered the SRT to pay compensation for losses incurred by Hopewell after Thai authorities terminated the controversial project two decades ago.
Planned to be the country's first urban train network, the "Hopewell Project" was signed off on Nov 9, 1990, and was officially terminated on Jan 27, 1998.
The 288 poles obstruct the planned route for the high-speed rail to be built by a Charoen Pokphand Group (CP)-led consortium.
The SRT is due to hold a meeting with the consortium on Friday regarding the SRT's handing over of land for the construction.
The poles will have to be demolished but it remains uncertain as to who will cover the cost of the demolition, said Mr Worawut.
An informed source said the cost of demolition is estimated to be more than 175 million baht.
This part of the high-speed land accounts for around 10% of the land needed for the project, so the SRT is likely to hand the rest over to the consortium while continuing negotiations with Hopewell.
The demolition of the poles should begin after the talks are wrapped up and a conclusion is reached, according to Mr Worawut.
Another informed source said that around 800 of the 1,109 original Hopewell poles had previously been demolished by Italian-Thai Development Plc, the contractor of the Bang Sue-Rangsit Red Line electric train route.
Source: https://www.bangkokpost.com/business/tourism-and-transport/1693344/hopewell-poles-hinder-airport-link