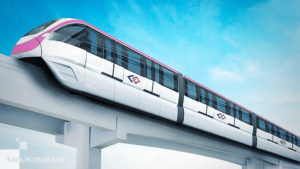 Thai Cabinet approves plan for Bangkok's 3-km MRT Pink Line extension
The cabinet yesterday approved the Transport Ministry's 4.23-billion-baht plan to extend the MRT Pink Line by an additional three kilometres to the Impact Muang Thong Thani complex in Nonthaburi's Pak Kret district.
Deputy government spokeswoman Traisulee Taisaranakul said the cabinet approved two Transport Ministry projects,with the other being the construction of a 19.7-billion-baht inter-city motorway from Ekkachai to Ban Phaeo in Samut Sakhon.
Prime Minister Prayut Chan-o-cha has ordered officials to be diligent in solving the kingdom's rubbish problem after acknowledging that about 40% of waste went into the ocean last year, according to Traisuree Taisaranakul, deputy government spokeswoman.
The 3-km Pink Line extension will be from Si Rat Station and will have two stations. Construction is expected to take just over three years, she said. The project's concessionaire will be responsible for all incurred expenses, she said.
Construction of the 16.4-km Ekkachai-Ban Phaeo inter-city motorway is also expected to take about three years and is aimed at reducing traffic congestion on Rama II Road and increasing southbound travel options.
Tolls will start from 10 baht for four-wheel vehicles to 23 baht for six-wheel lorries. The project's economic return is projected at 23.64 billion baht.
Transport Minister Saksayam Chidchob said the cabinet also approved amendments to the extended Pink Line's contract which will be signed by the Mass Rapid Transit Authority of Thailand and Northern Bangkok Monorail, a subsidiary of the BSR Joint Venture.
The minister said the contract was expected to be signed soon. The project's EIA had been approved by the Office Natural Resources and Environmental Policy and Planning, he said
Source: https://www.bangkokpost.com/thailand/general/2065423/cabinet-approves-plan-for-3-km-pink-line-extension