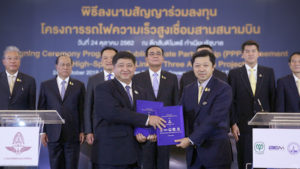 State Railway of Thailand unveils details of high-speed railways contract linking Don Mueang, Suvarnabhumi and U-tapao airports
By THE NATION
State Railway of Thailand (SRT)'s acting governor Worawut Mala revealed on Wednesday (Nov 6) the preliminary details of the high-speed railway project linking three international airports: Don Mueang Airport in Bangkok, Suvarnabhumi in Samut Prakan and U-tapao in Rayong.
"After the project bid winner CP consortium signed the contract with SRT on October 24, the Eastern Economic Corridor Policy Committee ordered that SRT must unveil contract details to the public in a simple form within 30 days to ensure the transparency of this public-private partnership," he said.
According to Worawut, the contract dictates that the operation and maintenance of high-speed trains will be carried out by the CP consortium and its partners provided that CP maintains at least a 51-per-cent share in the partnership. The CP consortium is also entitled to undertake the development of areas around the railway for a period of 50 years starting from when the railway service becomes operational. The profits generated from train operation and land development will be shared among SRT, CP consortium and their partners.
As for the train fare, the contract states that the fare for the high-speed train from the first station to the terminal will not exceed Bt490. Any fare adjustment must be in accordance with the consumer price index announced by Ministry of Commerce and must be agreed upon by both parties.
Furthermore, the contract also allows SRT to raise the fare of the airport rail link after the CP consortium finishes the construction of extended section that will connect to the high-speed railway from maximum of Bt45 to Bt97 from the airport rail link's first station to the terminal.
Worawut also added that in the contract addendum, the CP consortium is required to complete the design and construction of high-speed railway and airport rail link extended section within 5 years from the signing date. Should CP is unable to finish on time, they must pay a fine of Bt9 million per day to SRT for the high-speed railway, and Bt2.25 million per day for the airport rail link extended section.
"Furthermore, CP is not allowed to transfer the rights and responsibilities under this contract to any third person, either partly or wholly, unless written consent from SRT is obtained," Worawut added.
Source: https://www.nationthailand.com/news/30378133