Saying farewell to Bangkok's Scala theatre
During a recent discussion titled 'Scala: From The Beginning To The End', experts shared their opinions on where it all went wrong
October 31 was meant to be a time for Halloween celebrations, but this year, it turned out to be a horrifying day as photos on social media showed the demolition of Scala theatre in Bangkok's Siam Square. This broke hearts around the city.
Scala was one of the last remaining stand-alone cineplexes and once a favourite spot where teens of the 1980s and 1990s hung out. Famous for its extravagant exterior with a giant hall, grand staircase and chandelier built in the style of Art Deco architecture that emphasises the use of geometric shapes, the cinema eventually received the Outstanding Architectural Conservation Award 2012. However, after serving local cinemagoers for more than half-a-century, Scala closed in July last year. And while many may have already been prepared to some degree, no one expected this beautiful landmark with unique architecture to be destroyed within a day.
The demolition of Scala attracted widespread criticism over the destruction of historic buildings. It was spiritually important to many and naturally, people are looking for someone to blame, especially the organisations responsible for what happened.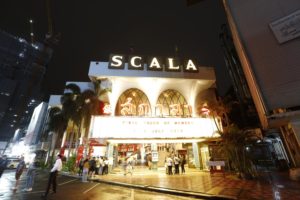 "For the past few years, we had hoped that the Property Management of Chulalongkorn University (PMCU) would change their mind about the fate of Scala and we did all we could to prevent that from happening such as hosting special movie screenings or film festivals with the hope of attracting people to come and realise the importance of the old movie house," said Chalida Uabumrungjit, director of the Thai Film Archive (Public Organisation), who took part as a guest speaker in the online discussion panel titled "Scala: From The Beginning To The End", held via Zoom recently.
"We lost touch with what was going on with the theatre for a while during the Covid-19 shutdown, and that's probably the reason why the owner hastened the decision to sell the contract which ultimately caused the cinema to be demolished."
This loss is priceless because Scala was not just a place where people went to see movies, but a historical landmark. It was an important symbol that told stories about the culture and lifestyle of Thais in the past. By destroying it, that evidence has also been lost. The new generation will never know or realise its value. We seem to be focusing on adding more high-rises and structures without trying to keep valuable ones. What happened raises the question of whether the conservation of old buildings means anything to anyone in Thailand?
"I think it is important to point out what the meaning of an asset is. For me, as a French architect, we are born in a country where assets are very important. We have so many retail buildings that we cannot maintain them. But in Thailand, it is a bit of the opposite," said Antoine Lassus, adjunct professor, INDA, Chulalongkorn University.
"Why are so many people emotional about the news? Because it was a unique building. When we talk about unique buildings like the Eiffel Tower, everybody knows it because it can't be seen anywhere else. It's part of national culture. So, when we destroy buildings like Scala, it isn't only the destruction of Thai heritage, but the destruction of Thainess too."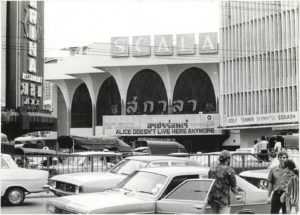 Meanwhile, Assoc Prof Chatri Prakitnontakan of Silpakorn University said that in Thailand today, the conservation of buildings and cultural heritage in society is centred on the Fine Arts Department which has the exclusive right to choose any place to be registered as a cultural heritage site.
"I understand it is a burden that the Fine Arts Department must bear or be blamed for. We know there aren't many officers in the department or a large budget anyway. In the past, they had the duty and responsibility to maintain only national monuments such as temples, palaces and city walls, which all date from the pre-1920 era. But sadly, in the case of Scala, it was still considered a modern building, and Thailand has never given enough importance to the arts. Therefore, it was not a priority to take care of this building," Chatri pointed out. "From now on, I hope that the country starts paying attention to local government at various levels. That will have the power to prevent, suppress or at least delay the decision to destroy important buildings similar to the case of Scala."
In the view of film critic Prawit Taengaksorn, he sees an age of multimedia cineplexes and online streaming services where people can easily access and watch their favourite movies and series anywhere on TV or mobile applications. More than half the population of youngsters hardly felt anything after Scala's departure as they never even went to see a movie there once.
"And it's not their fault because society has never taught or nurtured the new generation to understand the value and importance of cultural preservation and conservation," said Prawit. "Maybe it's too late now trying to save other stand-alone cinemas in the country as they're on the path to extinction. But I hope we can learn more from this story and perhaps use it to motivate us to be careful and in preserving art in the future."
Source: https://www.bangkokpost.com/life/arts-and-entertainment/2215439/saying-farewell-to-scala