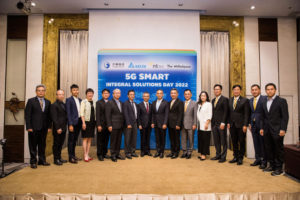 Taiwan's Chunghwa Telecom ventures in to Thailand
Chunghwa Telecom elevates 5G technology to enhance the country's competitiveness and facilitate life
Chunghwa Telecom announced its commitment and determination to develop 5G technology and infrastructure in Thailand by offering smart solutions and fostering collaborations with many government and private organisations. The company aims to increase Thailand's competitiveness and help improve the standard of living for Thais in various ways enabled by high quality 5G technology.
Since its inception over a century ago, Chunghwa Telecom has offered Taiwan's very first national telegraph, landline and satellite services and expanded into internet data centres, cloud services and 5G technology. Now Taiwan's no. 1 telecommunication company, it is leading in mobile, broadband and enterprise market shares in Taiwan. Overseas, the company has replicated the successful 5G private network experience in Taiwan, in Japan, the United States and Vietnam.
In Thailand, Chunghwa Telecom established a subsidiary in 2017, pledging commitment to support local customers, business partners and the government's Thailand 4.0 initiatives.
Shui-Yi Kuo, President of Chunghwa Telecom Co., Ltd., spoke of the decision to venture into Thailand: "As a leading country in ASEAN that emphasises industrial transformation and creative innovation, Thailand will benefit greatly from 5G technology to support its government's vision of Thailand 4.0. In addition to supporting the government sector, we plan to collaborate with private corporations to help streamline their operations, starting with some Taiwanese companies in Thailand. Ultimately, our 5G technology will also facilitate the daily lives of the general public."
In Taiwan, Chunghwa Telecom has continuously assisted Taiwan's information communication development and technology advancement to be more competitive and always ahead of the market response with key initiatives to consistently invest in research and development. Moreover, it maintains solid relations with the government of Taiwan.
"Our successes with 5G adoption and strong telecom foundation have been extended to and applied by many governments and companies across the globe. In Thailand, we have partnered with various organisations such as National Telecom (NT) and The WhiteSpace," continues Mr. Kuo.
"For us, revenue is not the most important aspect of our venture here. We prioritise solving problems, especially more urgent ones and offering smart solutions, covering areas such as manufacturing, city, building, healthcare, food and agriculture, entertainment, digital transformation and public transportation. In the next step, we seek to collaborate with more partners and provide 5G technology to support further advancements that were not possible before."
A prime example of 5G network projects supported by Chunghwa Telecom is 5G transmission signals in the production line area of Delta plant in Bangpoo.
Smart solutions applied by Chunghwa Telecom in Thailand involve: hospital smart healthcare solutions at Thonburi Hospital; AI smart agriculture to trial planting and development of different varieties of grapes in Rajapruek Viticulture Garden in Chiang Mai, which greatly improved cultivation efficiency, and; smart building solutions in Mitr Phol Group's Khon Kaen Innovation Center including deploying smart poles in surrounding streets, establishing protective safety nets, air pollution quality monitoring, and a flood alarm system.
Mr. Kuo concluded that: "Chunghwa Telecom is committed to helping Thailand and ASEAN lead in the era of smart lifestyle and digital economy.".
Source: https://www.bangkokpost.com/business/2403365/big-taiwanese-telecom-ventures-to-thailand