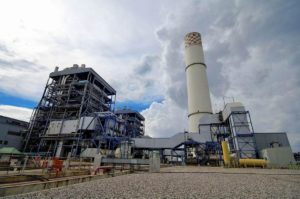 Ratch Group developing new Korat gas-fired power plant
Ratch Group, a private power generation firm with the largest capacity in Thailand, announced a joint venture with PEA Encom International and Navanakorn (NNCL) to develop a gas-fired power plant in Nakhon Ratchasima at a total cost of 2.18 billion baht.
PEA Encom is a wholly owned subsidiary of state-run power distribution arm Provincial Electricity Authority (PEA) and NNCL, a SET-listed industrial estate developer and operator.
The new joint venture will be 40% owned by Ratch, 35% by PEA Encom and 25% by NNCL.
Ratch reported to the Stock Exchange of Thailand yesterday the three firms signed a shareholder agreement in Bangkok to set up REN Korat Energy to develop and operate the co-generation power plant at a capacity of 40 megawatts.
Ratch chief executive Kijja Sripatthangkura said REN Korat will have 1 million baht in registered capital.
He said the project is located at the Navanakorn Industrial Estate and construction is expected to start soon, with operations projected to begin July 2023.
Mr Kijja said REN Korat is an independent power supply contractor, trading power directly to NNCL's factory in the industrial estate outside the state's power grid.
The project is one of five deals Ratch plans to complete this year, on top of new developments and asset acquisitions. He said all of the deals are related to electricity generation and are in negotiations, so cannot be discussed.
Mr Kijja said the company plans to allocate 20 billion baht to add capacity of 780MW this year.
Ratch expects power generation capacity to total 8,715MW by the end of this year.
Last month Ratch reported entering a 10-year power purchase agreement with Aldi Foods, the Australian subsidiary of the German grocery store chain, to sell power from the Collector Wind Farm project in Australia.
Ratch-Australia Corporation Pty, Ratch's wholly owned subsidiary in Australia, entered the deal.
The agreement calls for Aldi Foods to purchase 19.4% of total electricity generated from the 227MW Collector Wind Farm project for a 10-year period starting from commercial generation in early 2021.
Over the last several years, Ratch has diversified into infrastructure projects such as the Pink and Yellow lines for the BTS skytrain in Bangkok through a joint venture with BTS Group Holdings Plc and Sino-Thai Engineering and Construction(Stecon).
Source: https://www.bangkokpost.com/business/1905455/ratch-developing-new-korat-gas-plant