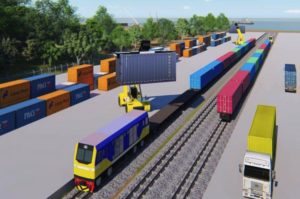 Plans to link Thailand's land bridge between Ranong's Andaman Sea deep sea port and the Gulf of Thailand at Chumporn won't happen until 2029
SEE ALSO: Thailand Mulls Southern Land Bridge Project – Route Would Bypass Malacca Strait Traffic
Ambitious plans for a so-called land bridge between the deep sea port in Ranong on the Andaman Sea and Chumporn on the Gulf of Thailand will be further delayed.
A study has already been completed in 2018 but now Daily News' sources at the State Railway authority have said they are about to call for yet another new environmental and economic impact assessment by a company called MAA Consortium.
The new EIA won't be finished until the end of 2022. Thereafter the cabinet will make a decision in 2023 and are expected to use budgets from the 2024 fiscal year.
With four years of construction ahead on the 35 billion baht project Daily News were reporting that the railway and motorway would not be opened anytime before 2029.
Chief sticking point that has caused the new assessment is changes to the precise route that the new infrastructure will follow.
This involves the positioning of the railway in relation to existing Route 4 and the motorway.
Ultimately the plan for the Land Bridge is to connect everything up to roads and sea links ending up in China.
This will lead to shipping firms coming from the west saving money by offloading cargo in Ranong rather than going south around Singapore then travelling up to ports like Laem Chabang on the eastern seaboard of Thailand.
Source: Thaivisa & Daily News