SET-listed Pace Development Corporation Plc will continue with high-end residential projects, vowing to launch a condominium with a minimum unit size and price higher than any seen before in Bangkok.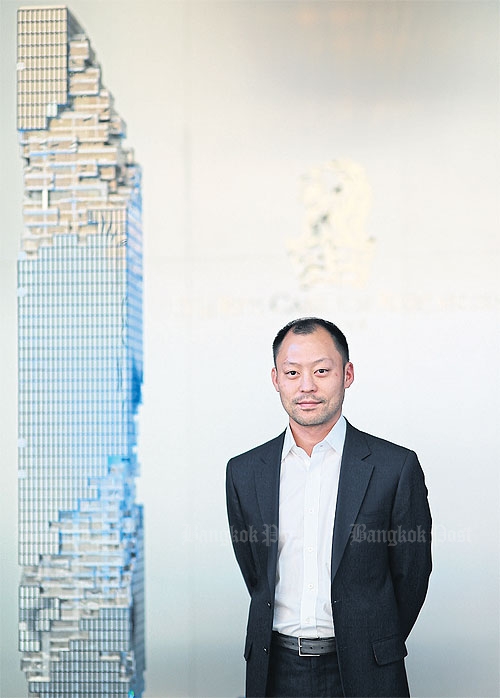 Pace wants to avoid clusters of condos at any one transit station, says Mr Sorapoj.
Demand for the high-end segment and large condo units in the inner city remains strong as land in prime locations becomes rarer, chief executive Sorapoj Techakraisri said.
"We don't want to follow other [developers] in condo development such as too many condo sites at one station," he said yesterday during a media visit at the unfinished MahaNakhon complex.
The latest condo project worth 3 billion baht will be launched next year on a 2.5-rai plot on Narathiwat Road near Chan Road. Pace paid 400 million baht for the land last month.
The 40-storey building will house 40 units of two floors each.
Units will start at 500 square metres and 70 million baht, record highs for minimum unit size and price in Bangkok.
"We keep doing high-end development because we have a customer base interested in our next project," Mr Sorapoj said.
Elsewhere, Pace is studying a 100-rai site in Niseko on the Japanese island of Hokkaido. It hopes to develop a high-end villa priced from 50 million baht a unit to tap high-net-worth Thai fans of the ski resort.
Pace has a sales backlog of 14.5 billion baht to be realised next year.
Some 9 billion baht will come from The Ritz-Carlton Residences Bangkok at MahaNakhon, now 70% sold, which will be transferred in the first quarter of next year.
The remaining 5 billion baht will come from Nimit Langsuan, a luxury condo in the Lang Suan area, now sold out.
Pace is likely to report another loss of 1 billion baht this year but turn a profit from the first quarter of 2016 onwards after completion of the large-scale, super-high MahaNakhon project.
The MahaNakhon tower is due for completion in next year's first quarter, when it will have 77 storeys, a hotel, a shopping complex and the luxury Ritz-Carlton Residences.
MahaNakhon is being billed as Thailand's tallest and most striking architectural landmark. This iconic tower will be recognised as the 41st-tallest mixed-use building and 85th-tallest building in the world by the Council on Tall Buildings and Urban Habitat (CTBUH).
An observation deck, restaurant and public plaza on the top floor will serve as tourist attractions.
Pace was invited to be the first and only property developer to represent Thailand at the CTBUH global conference in New York last month.
"We expect at least 10 billion baht in annual revenue starting in 2016," Mr Sorapoj said, adding that Pace would spend 2 billion baht on land acquisition next year.
In the first quarter of 2016, the company will launch sales of villas at MahaSamutr, a Hua Hin development with a gigantic man-made beach. Units will start at 40 million baht.
PACE shares closed yesterday on the SET at 2.70 baht, down four satang, in trade worth 5.45 million baht.
Source: http://property.bangkokpost.com/news/760868/pace-out-to-shatter-all-records