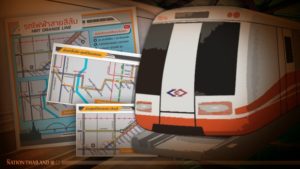 Mass Rapid Transit Authority of Thailand says Terms Of Reference Changes On Bangkok's Orange Line Western Extension 'lawful'
SEE ALSO: Terms Of Reference Changes On Bangkok's Orange Line Western Extension Questioned
The Mass Rapid Transit Authority of Thailand (MRTA) yesterday defended its decision to revise the terms of reference (ToR) of the 140-billion-baht Orange Line western extension after the launch of the bidding process, saying it was to ensure optimal benefits for the state and the public.
The revision, which was made after the purchase of bid envelopes, is being challenged by one of the potential bidders, Bangkok Mass Transit System Plc (BTSC) which last week filed a lawsuit with the Administrative Court against the MRTA concerning the matter.
MRTA governor Pakapong Sirikantaramas said the change in criteria for bid assessment was made due to the complexity of the project as the line will pass through several residential communities, the Rattanakosin Island area and require a tunnel to be built under the Chao Phraya River.
"It is in line with the law and will guarantee optimal benefits for the public. We can guarantee the specifications are not rigged to favour anyone. The bidders have received further documents and have been given sufficient time [to alter their bids]," he said.
He said the MRTA sought only a safe and high-quality rail line but would comply with the Administrative Court if it issued an injunction.
The MRTA kicked off the bidding in July for a builder and operator of the western extension linking the Thailand Cultural Centre with Bang Khun Non. Ten firms purchased bid envelopes including BTSC, operator of the BTS Skytrain, Bangkok Expressway and Metro Plc, which operates the MRT, Sino-Thai Engineering & Construction, and Italian-Thai Development Plc (ITD).
In August, ITD filed a complaint with the State Enterprise Policy Commission arguing the bid value should not be the sole deciding factor, and technical proposals and bidder credibility should also be taken into consideration.
The 13.4km section is part of the 22.57km Orange Line project and the bid winner will be granted a 30-year concession to operate the line. The chosen contractor is expected to be announced in January if all goes to plan.
Source: https://www.bangkokpost.com/thailand/general/1991847/mrta-says-tor-revision-was-lawful