Opening of 1,000km Laos-China railway approaches in in December 2021
Final 'dynamic tests' of the Lane Xang Electric Multiple Unit (EMU) train are being done on the Laos-China railway ahead of its opening in December.
Once functional, it will be China's first international railway, connecting Laotian capital Vientiane to Kunming, the capital of China's Yunnan province. The Lane Xang EMU train, developed by the China State Railway Group, will have capacity for 720 passengers and travel at 160km/h, meaning it will take less than a day to ride from one end to the other of the 1,000km route.
The Laos-China railway is split into two sections by the border. The 88km Kunming-Yuxi rail and the 508km Yuxi-Mohan rail form the 'Chinese section', which will connect at the border with the 417km Vientiane-Boten 'Lao section'.
The Chinese section began construction in 2016 and in total cost ¥51.6bn (£5.85bn). The track traverses difficult terrain, including rainforests, while avoiding nature reserves and traditional villages. In order to do this, there are 93 tunnels and 136 bridges, accounting for 86% of the 508km between Yuxi and Mohan. It will initially have 13 stations, with five more to be added in later years.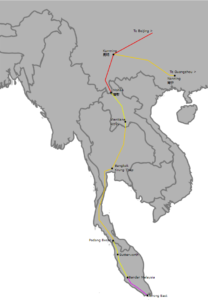 Construction of the Lao section began in 2016 and cost ¥37.4bn (£4.24bn). The 417km journey features 167 bridges which total 15% (62km) of the line and 75 tunnels, which account for 47% (198km). The Phonethong bridge is the longest on the line at 7.5km. There are 32 planned stations on the route.
Costs for the Lao section were split 70/30 between China and Laos.
Development is already underway to see this line extended on to Thai capital Bangkok and then eventually through Malaysia to Singapore. This will be the Central route of the Pan-Asia railway Network, while the Eastern and Western routes will also see Chinese railways spreading into wider Thailand and on into Vietnam, Cambodia and Myanmar.
This is just the first part of China's envisioned Belt and Road Initiative, an enormous infrastructure network that will connect it not just to Asia, but to Europe, Africa and beyond.
Source: https://www.newcivilengineer.com/latest/opening-of-1000km-laos-china-railway-approaches-25-10-2021/