Navarang Asset launches trendsetting Bangkok riverside condominium Na Reva Charoennakhon
Standing in a CBD-equivalent prime area with unit prices starting at 3 million baht
Navarang Asset Company Limited is livening up the market for premium condominiums in high potential locations in the first quarter of this year by launching the Na Reva Charoennakhon project (Charoennakhon 58). The 1.3-billion-baht Thai-Malaysian partnership project underlines the potential of high-rise residential projects for truly meeting the demands of local and foreign buyers with its outstanding river views, modern unit designs, natural atmosphere, fully developed public utilities and infrastructure at Charoennakhon, comparable to the Sathon-Silom central business district (CBD), and attractive unit prices starting at only 3 million baht.
Mr. Apipu Phromyothi, Chief Executive Officer of Navarang Asset Company Limited, Mr. Jeffrey Chew, Group Chief Executive Officer of Paramount Corporation Berhad of Malaysia, and Miss Aliwassa Pathnadabutr, Managing Director of CBRE (Thailand) Company Limited in her capacity as sales representative, held a press conference to officially introduce the Na Reva Charoennakhon project. Implementation of the project is the responsibility of Navarang Charoennakhon Company Limited, in which Navarang Asset Company Limited holds a 51% stake and Paramount Corporation Berhad has the balance of 49%. This demonstrates confidence in the potential of Thailand's property sector when it comes to high-end and high-rise residences.
Mr. Apipu says the Na Reva project targets both customers with real demand and investors. The project shows off four great strengths.
1) The first is its close proximity to the Sathon-Silom CBD. The project writes a new chapter of the Thon Buri side of the capital. It stands near the Chao Phraya River and such inner Bangkok areas as Sathon and Silom. It is within the vicinity of facilities which are highly useful for residents, especially the large retail complex ICONSIAM that brings many development projects to Charoennakhon Road. There are as many as three bridges across the Chao Phraya River in the area, namely Memorial Bridge, Taksin Bridge and Krungthep Bridge. There are also the Gold Line and Dark Green Line rail services that quickly and conveniently link Thon Buri and Bangkok for commuters. In addition, waterway transport is making progress with the construction of many new piers for passenger boats.
Moreover, the new complex of the Ministry of Interior to accommodate its five departments and its permanent secretary's office will move from the Sanam Luang area to the Charoen Nakhon bank of the Chao Phraya River. Over 7,600 ministerial officers will work in the zone and raise residential demand for condominiums as well as opportunities for short and long-term investment. The project is outstandingly situated on the main Charoennakhon thoroughfare and is close to local eateries and upscale restaurants at the Riverside Plaza community mall in the same zone as Anantara Hotel and Avani+ Riverside Bangkok Hotel.
2) The project boasts the extra value of river views
3) All units are designed to match new trends. This especially refers to special 1-bedroom units with Loft design featuring "Double Space", giving the feeling of living in a spacious two-storey house because each of the units covers at least 29.60 square meters and their ceilings are as high as 4.45 metres. This gives more usable space to buyers. Besides that, the simplex designs of 1- and 2-bedroom units gives ceiling height of as much as 2.70 metres, creating a comfortable atmosphere and feeling of nearness to the natural ambience of the Chao Phraya River.
4) Attractiveness of unit prices is obvious because the project stands amid fully developed facilities and offers the living standard of riverside and CBD residences with prices starting at only at 3 million baht.
As Ms. Aliwassa Pathnadabutr, Managing Director of CBRE (Thailand) Company Limited, and chief sales representative for the project says: "The Na Reva project is being developed to satisfy the present condominium demand, especially among people who work in urban areas and investors. Market saturation and unaffordable prices have hit some areas. Charoennakhon is a location of low supply and offers the convenience of being close to a modern shopping centre and giving faster access to the inner city by car and electric train than other outer areas. The average unit price of 136,000 baht per square metre represents a good investment. That is because land prices on Charoennakhon Road are not expensive compared to other outer areas such as Ratchada, Phraram 9 and Onnut. Therefore, the location is attractive to investors. Evidently the prices of condominiums launched on Charoennakhon Road in 2018 and 2019 have been rising."
The Na Reva is a Thai-Malaysian partnership project. Paramount Corporation Berhad (Paramount) is a company listed on Bursa Malaysia with a core business in property development. The potential of the co-investment and marketing campaigns targeting Malaysian buyers is likely to expand the base of foreign customers beyond Chinese who have been the only potential group of foreign buyers.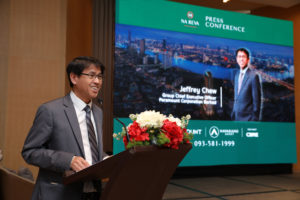 Mr. Chew said Paramount chose to enter the property market in Thailand because it sees the potential in Thailand's economic growth and Bangkok's property market, in particular.
"There is also a strong synergy between the teams at Navarang Asset Management and Paramount. Both organisations are made up of highly qualified professionals with academic credentials and work experience, whether accountants and civil engineers or specialists in real estate development, urban design, interior design, law, business administration, and public administration."
"The project has all the ingredients for success – a strong professional team, unique designs and layouts, and a panoramic view of the Chao Phraya. As such, we foresee high demand for the limited units," said Mr. Chew.
The 1.3-billion-baht Na Reva Charoennakhon project is under the management of Navarang Charoennakhon Company Limited. It comprises one 29-storey building with 253 units. Construction is being prepared on a plot of land of about 1.5 rai on Charoennakhon 58 Road and is set for completion in the 4th quarter of 2022. Room mock-ups will be on display and orders can be placed at the presale event at the sales office on February 22 and 23, or call 09-3581-1999.
Source: https://www.bangkokpost.com/thailand/pr/1861114/trendsetting-riverside-condominium-na-reva-charoennakhon-launches