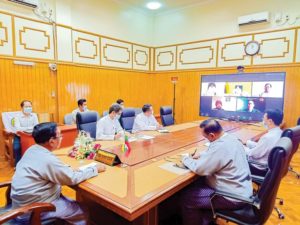 Myanmar engineers share knowledge with foreign counterparts in Yangon
The Myanmar Engineering Council (MEC) with the involvement of the Federation of Myanmar Engineering Societies (FMES), the World Federation of Engineering Organizations (WFEO), and the Federation of Engineering Institutions of Asia and Pacific (FEIAP) held a seminar conducted over the Internet on the responsibility and accountability of the bodies and technicians of the construction industry at the MEC Office in Yangon yesterday afternoon.
In his speech, Union Minister for Construction U Han Zaw categorized the discussion into two parts – safety and improvement. More and more news about the casualties resulting from building collapses and occupational accidents are coming up day after day, he said, adding, the improvement of the standards of quality control is the best way to regulate the industry. Designing, tender invitations, erection, and testing which are the different stages of the development projects must be under proper regulation and control. Standard norms and detailed guidelines for quality designs and FIDIC directives must be observed, the Union Minister said.
MEC is improving the qualifications of professionals and junior engineers, and at the same time, the relevant government bodies are focusing on skill improvement and standardization. Moreover, the Government involvement in promoting the responsible behavior and accountability will help develop the construction industry, he noted.
Afterwards, Former President Dr Marlene Kanga of the World Federation of Engineering Organizations(WFEO) gave talks on The Latest Changes in Australia, and Secretary General Ir. Dr Tan Yean Chin of the Federation of Engineering Institutions of Asia and Pacific(FEIAP) on Responsibility & Accountability of Stakeholders in Construction Industry in Malaysia. The president and the joint secretary of MEC acted as moderators at the Webinar, where papers on development undertakings, engineering bodies, high-rise building and public building projects, Present Inspection System for High-rise and Public Building Projects, and Challenges ahead for Myanmar Construction Industry were presented. Other participants also took part in the discussions and shared knowledge.—MNA (Translated by TMT)
Source: https://www.globalnewlightofmyanmar.com/myanmar-engineers-share-knowledge-with-foreign-counterparts-in-yangon/