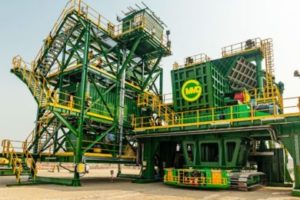 MMD delivering eighth semi-mobile sizing station to Mae Moh coal mine in Lampang, Thailand
MMD is delivering another Semi-Mobile Sizing Station and 500 t Atlas Transporter to the Mae Moh coal mine in Lampang, Thailand. This crucial asset feeds the neighbouring Mae Moh Power Station, owned & operated by EGAT (the Electricity Generating Authority of Thailand).
ITD (Italian-Thai Development Public Company Ltd), the mine operator for phase nine of the project, has also requested MMD to undertake the design of a far-reaching refurbishment of the four Semi-Mobile Sizing Stations supplied back in 2001 for phases five, six and seven. After installation of these new and refurbished machines, it will bring the total to eight MMD Sizer Stations and two MMD Atlas Transporters operating at Mae Moh coal mine. MMD has had a long relationship with the mine dating back to 1993, and delivered true turnkey processing solutions to assist the mine's progress, from initial order through to final commissioning and aftersales service and support.
Each of these latest Semi-Mobile units will be utilised to the full, processing overburden at a rate of 5,500 t/h, whilst reducing material from up to 1.5 m down to 300 mm. With parts supplied from the UK, South Africa, China, India and Thailand, this ambitious refurbishment and new build project brings together MMD companies and expertise from around the world.
"MMD deliver good performance and reliability," said Payungsak Jaikham, Project Coordinator of ITD. "We received a very competitive price, and we are looking for a long-term relationship with MMD. We know they can support us."
Source: https://im-mining.com/2020/03/23/mmd-delivers-eighth-semi-mobile-sizing-station-mae-moh/