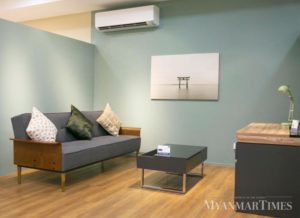 Thailand's SB Furniture brand arrives in Myanmar
Plush duvets cover the beds, illuminated by the designer lamps on the side tables. These bedroom collection sets are quite complete, with cabinets and sideboards in the corners.
And that's only on the second floor. Downstairs, customers browse a whole range of sofas and arm chairs, corner-piecechairs, made from cloth and leather, alongside coffee tables, storage boxes, counter tops and more lampshades.
This new home-ware shopper's paradise is a novelty for Myanmar consumers and is called SB Furniture. SB Furniture was awarded "The Most Admired Brand" in the category of "Group Construction Materials" at Thailand's 2020 Most Admired Brand Awards, and brings its home-ware magic to Myanmar.
Unlike other typical furniture showrooms in Yangon, this place is not only fully-stocked but also invites shoppers to sample the materials. There are no "not allowed to sit", "please keep off" signs here. SP customers are, with the guidance of staff, encouraged to sit on the furniture, fiddle with the taps and feel the materials.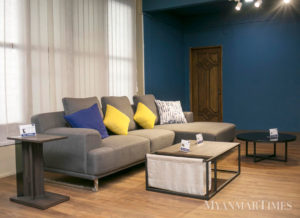 It's a new kind of interactive shopping experience for Yangonites.
The Bangkok retailer has confidence in its vast range of products, saying that Myanmar consumers now have the best products on offer for their homes.
"First of all, the prices are very affordable. The materials are made to European standards, which means that most of the items have less than 0.005 percent formaldehyde [a product used in some Myanmar furnishings]. So, there's no formalin smell," Dr Naing Win, Director of SB Furniture Myanmar told Metro.
"Customers will be able to experience the difference, and use our products without having to worry about their health.Last but not least, we have a huge variety of designs – from luxury, vintage, industrial, to contemporary and retro mid-century," he added.
Ko Naing Win is excited about bringing quality furniture to Myanmar, and believes the market will be driven by middle and upper middle-class consumers at first. But the demand will spread, hopefully as the country becomes more aspirational.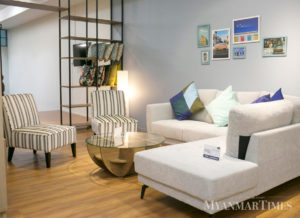 He and his friends have been working in custom-made furniture production for more than 5-years, and are now collaborating to bring the home-ware revolution to Myanmar.
"I want to introduce a modern standard of furniture to Myanmar, but also being able to mix and match designs so that consumers have more choice," he said. "Now, we can imagine how to decorate our homes in new and more interesting ways."
Though the new brand competes with the other mega-brand Pro-1, Ko Naing Win says that the market is still limited due to the lack of production capacity here.
Established in 1967 in Thailand, SB Furniture now operates in over 40 countries around the globe. Located on the Shwegondaing Road in Bahan, Yangon's first exclusive dealer shop was only launched as recently as last month.
Aside from their try-and-sample approach to retail, the company also offers a 3D design service that allows customers to check the dimensions of the items before buying.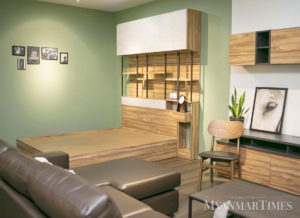 Whole room sets range in price from K10 to K50 lakh. A room set includes a bed, wardrobe and dressing table. Currently, SB Myanmar offer two brands of furniture: SB and Koncept.
"People shouldn't buy furniture in a rush,because they use those items in the house for at least five years. They have to choose wisely, and that's why it's important that they experience the furniture first," Ko Naing Win said.
"It's something I used to love doing in IKEA stores overseas. It's that kind of experience I really want our customers to experience, because I want them to feel satisfied before they buy," he added.
SB has a world-class quality control system, given that their brands are sourced from 10 different countries around the world. The furniture is also assembled using a Minifix system, meaning that items can be customised to meet customer requirements.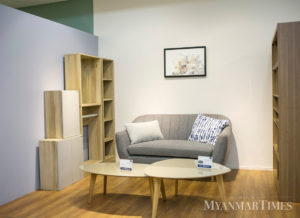 The company also has an extensive research and development branch, which ensures that the right kinds of furniture are in stock at particular stores.
"Overall, it is the ideal furniture store for Myanmar trend-setter," Ko Naing Win said.
Particleboard furniture and home decor items first became popular in the 1970s, when they were first marketed globally. Myanmar has missed out on this revolution until now, instead relying on hand-made or cheap products manufactured locally.
As Medium Density Fiberboard (MDF) and Particleboard are composite materials, both have become sturdy substitutes for wood furniture. They are produced from wood fibers, wood chips, sawdust and wood shavings mixed with glue. The materials are processed in a hot press machine which compresses the mixture and forms the board.
"SB focuses on the condo market, as we like to make the units more attractive," Ko Naing Win said. "In our lineup, Koncept is trendier with bright colors while SB looks more luxurious with upgraded facilities."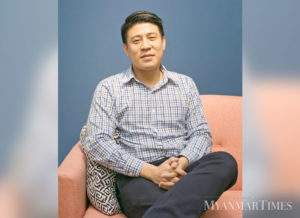 For each product, SB Myanmar provides a one-year warranty with free delivery and assembly instructions. SB Myanmar's website provides pictures and details of their stock, along with a chat-feedback system for enquiries.
In the future, SB Furniture Myanmar is planning to create a working space for home decor experts and designers who would like to promote their work at the store.
Source: https://www.mmtimes.com/news/thai-brand-arrives-myanmar.html