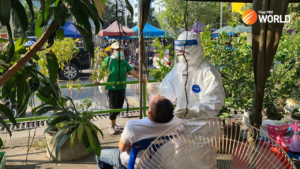 Mild, asymptomatic COVID-19 cases not entitled to claim under new insurance rules in Thailand
The Thai Life Assurance Association has issued new rules, which take effect on February 15th, limiting compensation claims by people infected with COVID-19. Patients who are symptomatic or who have mild symptoms being treated in hospital or in home isolation and are without doctor's certificate stating the need for treatment in such facilities will not be covered by the medical care or compensation scheme.
Assistant Secretary-General of the Office of Insurance Commission (OIC) Apakorn Panlerd said that the new rule is in line with the Public Health Ministry's guidelines for the care of people infected with COVID-19, as revised on January 4th, which has resulted in a change to the conditions covering claims.
Under the previous guidelines, all COVID-19 patients were considered in-patients and were entitled to claim medical expenses and compensation for the loss of income during the period of treatment.
Under the new guidelines, however, the patients must meet specific requirements to be able to claim. For instance, he or she must have a fever of over 39 °C for more than 24 hours or their breathing rate is more than 25 times per minute or the oxygen content of their blood is lower than 94%.
He said that the Public Health Ministry's new guidelines will cover insurance policies issued by life and non-life insurance companies regarding medical expenses and compensation, but do not cover the "Found, Paid, Done" insurance policies for COVID-19 infections.
People who took out "Found, Paid, Done" policies and were found to be infected with COVID-19, by means of RT-PCR tests at hospitals, can still claim medical expenses and compensation from their insurance firms.
Source: https://www.thaipbsworld.com/mild-asymptomatic-covid-19-cases-not-entitled-to-claim-under-new-insurance-rules/