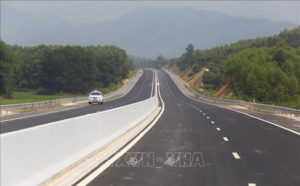 Laos, Thailand mull over building 160-km expressway from Savannakhet to Lao Bao border gate of Vietnam
Authorities of Laos and Thailand have discussed a feasibility plan to construct a 160-kmexpressway from the central Lao province of Savannakhet to Lao Bao border gate of Vietnam, Lao media reported.
Savannakhet Deputy Governor Senesak Soulysak proposed the plan for the expressway construction to Thai former Minister of Energy and Mines, Sonthirat Sonthijirawong and other Thai officials.
The official said along with the expressway, the building five-star hotels and golf courses, as well as international transportation services will foster the development in the province which has already seen increased foreign investment in the renewable energy sector.
The expressway will boost trade as the province is located in the East-West Economic Corridor, he added.
Currently, Thailand is the second largest foreign investor in Savannakhet province, after China.
Source: https://vietnamnet.vn/en/laos-thailand-mull-over-building-expressway-linking-to-vietnam-2181226.html