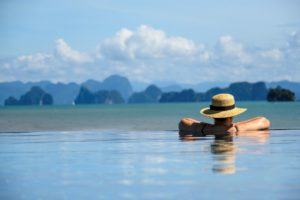 Higher-end Development Projects Dominate the Asia Pacific Region's Hotel Construction Pipeline at Q2 2023
In the Q2 2023 Asia Pacific, excluding China, Hotel Construction Pipeline Trend Report from Lodging Econometrics (LE), analysts state that the region is at an all-time project high of 1,936 with 401,766 rooms in the total pipeline at the close of the quarter.
At the end of Q2, luxury, upper upscale, and upscale projects dominate the pipeline reaching record project counts with 228 projects/46,305 rooms, 348 projects/78,336 rooms, and 426 projects/92,702 rooms respectively.
Projects under construction stand at 944 projects/215,775 rooms. Projects scheduled to start construction in the next 12 months stand at 292 projects/53,417 rooms, and projects and rooms in the early planning stage hit an all-time high of 700 projects/132,574 rooms.
Countries with the largest pipelines in the Asia Pacific, excluding China, at Q2 are led by India, accounting for 25% of the projects in the total pipeline, with 480 projects/57,161 rooms. Next is Vietnam with 237 projects/85,168 rooms, then Thailand with 156 projects/39,199 rooms. These countries are followed by Indonesia with 207 projects/34,605 rooms and Japan with 164 projects/33,183 rooms. These five countries account for 64% of the projects in the region's total pipeline. The LE forecast for new hotel openings expects India, Indonesia, and Japan to continue to open the greatest number of new hotel projects through 2025.
Asia Pacific cities with the largest construction pipelines include Bangkok, Thailand with 65 projects/17,088 rooms; Kuala Lumpur, Malaysia with 41 projects/11,879 rooms; Jakarta, Indonesia with 48 projects/9,409 rooms; Melbourne, Australia with 43 projects/8,252 rooms; and Phuket, Thailand with 31 projects/8,370 rooms.
The top franchise companies are Marriott International with 280 projects/60,566 rooms, Accor with 206 projects/47,052 rooms, and IHG Hotels & Resorts with record project counts of 164 projects/34,227 rooms, then Wyndham Hotels & Resorts with 134 projects/31,606 rooms, and Hilton Worldwide with 94 projects/21,455 rooms.
Leading brands at Q2 include Wyndham's Ramada Inn brand with 53 projects/7,385 rooms; Accor's Novotel brand with 50 projects/10,364 rooms; Marriott's Marriott Hotel brand with record high project and room counts of 44 projects/11,081 rooms; IHG's Holiday Inn brand with 44 projects/9,798 rooms; and Hilton Worldwide's Hilton Hotel & Resort brand with 29 projects/8,049 rooms.
The Asia Pacific region, excluding China, had 172 hotel projects/26,748 rooms open in the first half of the year, with another 227 new hotel projects/44,514 rooms expected to open in the second half, bringing the total forecast for new hotel openings to 399 hotels/71,262 rooms in 2023. The LE forecast anticipates new hotel openings in 2024 in Asia Pacific, excluding China, to settle in at 392 new hotel projects/79,649 rooms, with another 318 new hotel projects/63,153 rooms anticipated to open in 2025.
About Lodging Econometrics (LE)
For over 25 years, Lodging Econometrics (LE) has been the industry-leading provider of global hotel intelligence and decision-maker contact information. LE custom-builds business development database programs for hotel franchise companies looking to accelerate their brand growth, hotel ownership and management companies seeking to expand their real estate portfolios, and lodging industry vendors wanting to increase their sales. To learn more about our business development programs contact us: +1 603.431.8740, ext 0025 or info@lodgingeconometrics.com.
Hannah Paoletti
Media Relations Manager
+1 603 427 9556
Lodging Econometrics
Source: https://www.hospitalitynet.org/news/4117827.html