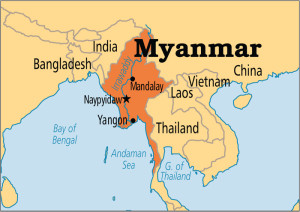 Japan Announces Soft Loan of $414 Million to Myanmar to assist with infrastructure development projects
To assist Myanmar with infrastructure development projects, Japan has announced a soft loan of 42.78 billion Yen, equivalent to $414 million. Out of the total money announced by the Japanese government, 27.78 billion yen will be reserved for the development of Myanmar's east-west economic corridor. The fund will be utilized to bridge the corridor that crosses through Vietnam, Laos, Thailand, and Myanmar.
According to the Japanese ministry, the construction of this bridge will result in the linking of Bago and Kyaikhto and enhance the logistics and supply chain efficiency of the sector tremendously. The agreement was signed between the Japanese Ambassador to Myanmar, Ichiro Maruyama, and the deputy minister for planning, finance, and industry of Myanmar, Maung Maung Win. Releasing a statement on this occasion, the Japanese ministry states that the completion of this bridge will boost the trade between Thailand and Myanmar and help the supply chain sector become more efficient.
The rest of the aid will be allocated to help small and medium organizations in Myanmar face a difficult time thanks to the coronavirus pandemic. The fund will help reverse the economic devastation that the industry in Myanmar is contended with for quite some time, and now with the Covid-19, the situation has become even worse. Companies can utilities this fund to restart their business activities, create new employment offers for the workforce.
This aid from Japan has come as a booster shot for the economy of Myanmar. Especially for the supply chain and logistics sector, this aid will prove instrumental in helping their overall efficiency and effectiveness. However, on the larger front, this help will help Myanmar's economic activities return on track after being disrupted by the Covid-19.
Source: https://www.namecoinnews.com/japan-announces-aid-of-414-million-to-myanmar/