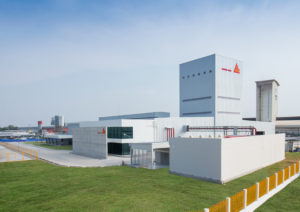 Sika is expanding its supply chain footprint in Thailand by inaugurating a mortars and concrete admixtures plant. The new facility in Saraburi, 100 km North of Bangkok, is the Group's second in the country. This latest investment will enable Sika to meet the needs of Thailand's booming construction market, expand its local product portfolio and continue its strong growth.
Heinz Gisel, Regional Manager Asia/Pacific: "After our existing plant in Chonburi reached its limits, we consequently invested in additional production capacities. The new plant will enable us to maintain our strong growth in Thailand in terms of production volume, sales and market share. South East Asia is one of the regions where Sika generates some of the Group's highest growth rates, and we are well positioned to continue this positive development."
The new Saraburi plant is one of Sika's biggest factories in South East Asia and has been built on a 25,000 square meter plot. It has production capacity for 100,000 tonnes of mortars and 65,000 tonnes of concrete admixtures per year. A spacious warehouse for the storage of raw materials and finished goods and an office building complement the state-of-the-art manufacturing facility. Sika's presence in Thailand dates back to 1988.
INFRASTRUCTURE INVESTMENTS STIMULATE CONSTRUCTION MARKET IN THAILAND
The key investment focus of Thailand's government is on upgrading and developing the country's infrastructure. Nearly CHF 100 billion have been allocated to the ongoing 2014-2021 infrastructure development plan. The plan includes the overhauling of the country's aging rail system, Bangkok's light rail network, and ports. Some of the funding has been earmarked for high-speed rail lines to connect Thailand, China, and other neighboring countries.
CONTACT
Dominik Slappnig
Corporate Communications and
Investor Relations
+41 58 436 68 21
SIKA CORPORATE PROFILE
Sika is a specialty chemicals company with a leading position in the development and production of systems and products for bonding, sealing, damping, reinforcing and protection in the building sector and automotive industry. Sika has subsidiaries in 94 countries around the world and manufactures in over 170 factories. Its more than 17,000 employees generated annual sales of CHF 5.49 billion in 2015.