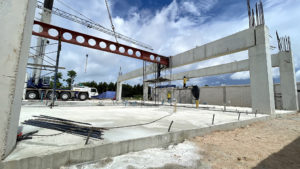 In Pattaya, the construction quality for residential buildings is brought to a new level
Mario Kleff and Songkiat Matupayont, expert designers from Thailand, have formed a team that will see the duo work on a new villa project in Pattaya. Lieb Tang Rodfai Villas is a modern residential project with plans for homes of 700-1600 m2. The designs of the structures with post-tensioned foundations are rather outlandish on a construction site in Thailand.
"This is an important step for both of us in jointly engineering a real estate project in Thailand that will raise the quality of residential construction as well as present the first post-tensioned building foundation in Thailand", Mario Kleff, Wandeegroup Asia Managing Director, in a press release. "The fact that Songkiat is working with me shows how important it is to develop the design for this project safely and solidly. We have extensive engineering experience of both vertical and horizontal structures in all segments."
Dr Songkiat Matupayont, technical director of Civil And Structural Engineers Co. Ltd is not only Mario's friend, but a serious partner when it comes to advise on special structures. In 2021, Mario and Songkiat designed a cellular beam with an unprecedented length of 48 metres between two columns and a large steel box girder to cantilever 19 metres in a 2,500m2 villa.
The design of Lieb Tang Rodfai Villas called for a little more specialist knowledge and mastery, especially on the technical side. The architect planned 2-story villas of up 1600 m2 with spans of 30 metres on a difficult soil state, which consists of clay, mud and water. W-Balance Co. Ltd and Concrete Products and Aggregate Co. Ltd decided to join the team to support the challenge.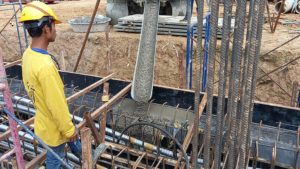 Architect Mario Kleff from Pattaya is known for being head strong and stubborn, but sometimes headstrong people make history because they against traditional values or outdated rules that need to be changed. In architecture and engineering design, he is determined to have his own way because he strongly believes that his view is the best. The presentation of the blueprints seemed convincing enough for the Chinese developer, so that he agreed to some extraordinary construction specifications for this project.
Concrete pouring is carried out using high-strength concrete mixtures of up to 850ksc from CPAC. To produce this concrete, stones from the northern mountain region in Thailand had to be transported to Bangkok. According to CPAC, no previous deliveries of this concrete were carried out in Pattaya and the Chon Buri region. The concrete reinforcement takes place with DB 20, DB25 and DB32 ST50 on a very tight grid. With a joint effort between Wandeegroup Asia Co. Ltd, B.S.Y. Group PLC and Span Systems International have installed heavily post-tensioned concrete girders and reinforced cellular beams cast in concrete to assure the stability and safety of the first four structures. The two remaining villas are being built by Wandeegroup Asia and post tensioning company W-Balance Co. Ltd.
Information received from Wandeegroup Asia
"Mario often created a headache to Dr Songkiat, especially in previous buildings that were engineered by the duo. With the two largest villas within this project, Mario likes to present the finest in engineering and construction possible, and asked Songkiat to support him on the design of post-tensioned footings, wide span post-tensioned ground floor slab and post-tensioned concrete girders of 30 m in length to carry the upper floor plates", Nittaya Wongsin, financial director.
"We provided the plans for the post-tensioned footings with a length of 9,0 x 2.1m x 1.2 m, each on which needs to install two concrete columns of 0.60 x 0.80 m, reinforced with DB32 ST50. One of the requirements that could not change was the overall design of the foundation, which was inspired by a box girder bridge. After the soil test was professionally performed, the lower ground conditions seemed more difficult than initially anticipated. On the first of the larger villas, each of the post-tensioned foundations was set on a deep foundation consisting of fifteen 450mm diameter piles, 9.0 metres in depth, locked with a large concrete coupler plate to stabilize the assembly. Mario decided to work on the second villa's piles with larger diameter, heavier steel and higher concrete strength. 24 steel rods of 40 mm that form the basket of the piles, which are now 1 metres in diameter. Such foundation works are not found in 8-story residential buildings, let alone in a two-story villa", Waraporn Na-Lampang, site architect.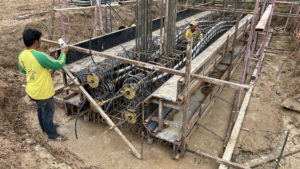 A big challenge is the fabrication and installation of the fourteen post-tensioned concrete girders weighing each over 40 tons. Casting on site is necessary, as narrow roads and curves make it impossible to deliver these beams. "We're doing it like the 18 m beams we've installed over the past few weeks, with the help of 220t mobile cranes", says Mario Kleff.