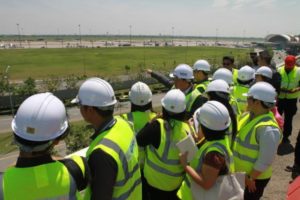 How engineering can adapt to the 'new normal', opinion of Worsak Kanok-Nukulchai, PhD, Fellow of the Royal Society of Thailand
The coronavirus started as a health pandemic, but the massive outbreak will create long-lasting changes that will alter the way we live and work. Like other industries, engineering and construction sector has also been seriously impacted, and engineers keep wondering how this pandemic will change the way they work in the future. I believe Covid-19's long-term impact on the engineering and construction industry will be far-reaching and may even change the industry's operating structure.
Immediate Impact
In the immediate term, important ongoing projects should continue, until and unless the supply chains are disrupted by a shortage of subcontractors and materials. Most likely, public agencies may consider suspending contracts to control expenses. With little choice but to conserve cash, many private entities may opt to postpone or delay their originally planned projects.
In Thailand, engineering firms may be able to execute the backlog of projects, but what in the pipeline could be exhausted sooner or later. The industry should keep an eye on the status of ongoing infrastructure megaprojects especially those still under planning. One must wonder if there will be any policy change due to the global financial crunch. Maybe, hopefully, foreign investors still consider Thailand's investment as their priority for some unknown reasons.
The Stimulus
The massive potential of the engineering industry (particularly the construction sector) to offer jobs and employ scores of workers is one reason why the Thai Government should consider stimulus packages to the construction sector to kick-start economic recovery post-COVID-19. However, this stimulus is likely to stress on the three things – the ability to generate jobs, the best return of investment for government, and green climate-smart engineering works.
The New Normal
It is quite clear that we are experiencing not only another turn of the business cycle, but a restructuring of the economic order. At this moment, for many organizations, the near-term survival will be the only agenda item. Others are staring through the mist of uncertainty, thinking about how to position themselves once the crisis has passed, and hope that things return to normal. The question is what the new normal will look like. Top executives of engineering firms should now think outside the box, especially on how to turn the crisis into opportunity. Now is the right time to redefine the nature of their services that can position themselves in the new landscape of the job market under the new normal.
The following are what could become a new normal.
People are now comfortable to work from home (WFH). Face-to-face meetings are being replaced by online meetings. Companies are expected to consider a new normal where employees can work anywhere. This will cut down not only the cost of office overheads but also the traveling time of the employees. Perhaps a new set of KPIs needs to be defined, not by the hours spent on the job, but by the milestones of the project accomplishment.
The so-called "gig economy," which has already altered the way that people work, will turn mainstream. Engineering firms are already familiar with the "gig economy" as they regularly engage part-time and external experts. This will become a new normal even with regular employees, so companies must be ready to respond with innovative policies and programmes. More professionals will earn a living under various alternative work arrangements, including independent contractors, freelancers, temporary employees, and on-call employees.
For years, the industry has put a premium on productivity. In the future, capital efficiency will replace productivity. Companies that use their cash wisely, have less fixed costs, and have a short cash conversion cycle, will be most sustainable.
As much as possible, engineering products must be digitized and available for online transmission. This allows the concept of "get jobs anywhere, produce anywhere, and deliver anywhere".
Technological innovation will continue with the shift to hot areas such as genetic engineering, software, artificial intelligence, and clean energy.
Engineering solutions for public-health will be a new hot area, with human-machine interface acquiring increased prominence. The luxury sector will suffer a setback, and more social-oriented projects will gain traction.
Globalisation
After the pandemic, most countries want to rely less on foreign supply chains, whether it is human resources or products. Considering this tendency plus the new normal of travel inconveniences, the expansion of engineering firms overseas becomes less viable. The best way towards internationalisation lies in establishing a regional partnership.
As engineering products today, including study reports, design calculations, engineering drawings (in BIM), are all in digital form, the production phase can be outsourced to "gig partners" overseas. This is a way to take advantage of lower professional rates, and to resolve locally unavailable expertise.
The post-Covid-19 phase could be an era of alliances. Elite engineering service companies in different countries will form alliances (like the aviation "Star Alliance") to share jobs, professional expertise, and even productional capacity, while representing each other locally.
Sustainability
The author believes that the outcome of this global challenge will fundamentally transform the world's outlook on how we deal with our mother earth. Public and private investors will have to rethink about their new roles in the development of greener infrastructure, to make the world a beautiful place to live as illustrated by the social slowdown during the current pandemic.
Every crisis comes with a wave of new entrepreneurs. A lot of young birds just got shaken out of their nest. Don't rest on your past glories, take some action to create your new birds.
Worsak Kanok-Nukulchai, PhD, is a Fellow of the Royal Society of Thailand, Executive Director, Chulalongkorn School of Integrated Innovation (ScII), Former Vice President, the Engineering Institute of Thailand, Former President of Asian Institute of Technology (AIT).
Source: https://www.bangkokpost.com/opinion/opinion/1933512/how-engineering-can-adapt-to-the-new-normal