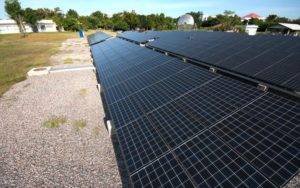 Gunkul Engineering to take control of 87-MW Thai solar portfolio
The board of Thailand-based Gunkul Engineering Pcl (BKK:GUNKUL) has approved the proposed acquisition of an additional 33% stake in the owner of a solar power business with 87 MWp of operating capacity.
Specifically, Gunkul Engineering will buy some 5.16 million shares in Infinite Alternative Energy Co Ltd (IAE) from Super Solar Energy Co Ltd for THB 780 million (USD 25.9m/EUR 23.1m). Following the transaction, the buyer will hold a total interest of 99.9% in IAE.
IAE is the owner of Rang Ngern Solution Co Ltd (RNS), which has 11 solar projects with power purchase agreements (PPAs) in place with Provincial Electricity Authority (PEA). Ten of the solar plants are of 8-MWp capacity and one amounts to 7 MW. They will receive THB 5.66 per kWh as a feed-in tariff (FiT) for 25 years.
(THB 10 = USD 0.332/EUR 0.296)
Source: https://renewablesnow.com/news/gunkul-engineering-to-take-control-of-87-mw-thai-solar-portfolio-682467/