"I came to Nai Yang in 1987 for a once in a life time holiday. The rest is history"
After being inspired by episodes of A Place in the Sun, Christine (67) and Glen King (62) left Sussex in 2008 and permanently relocated to Phuket, Thailand where they have been building a home since 2003.
Eight years on, their plot of land is now a small villa resort, with 3 bungalows, 3 bamboo cabins, their own house, plus a swimming pool and tropical gardens. We speak to Christine about the highs and lows of life in Thailand and the unexpected twist in their story…
So, why Thailand?
I first visited and fell in love with Nai Yang in 1987 – way back before the area became popular with tourists.
A few years down the line, after going through a divorce, I met Glen. In 2000 we went to Nai Yang on holiday together – I was still in love with the area and it wasn't long before he fell in love with it too. A few holidays after that we decided this is where we wanted to retire.
Initially we wanted a piece of land to build a house for the two of us and Nai Yang ticked all the boxes in terms of location and affordability. We are very close to the area's famous beach and the Sirinat National Park. There's also a local Thai market three times a week which is where we get most of our essentials.
How did a plot of land with one house transform into Kingsacre?
We started by asking around for some land, we were very naive about how to go about it, but fortunately found a good lawyer who advised us to start a company. The company owns the land and Glen and I are the directors, we also have three nominee Thai shareholders.
After buying the land in 2003 for around £30,000, we realised that there was an opportunity to build a business that could support us. It took us a long time, including an increased mortgage on our UK apartment, until we were able to move here permanently in 2008.
When we sold the UK apartment we put all the money, an endowment pay out and my pension lump sum, into the project. I think it would be around £200,000 in total.
We then added the swimming pool, put a wall around the land and made the decision to buy the piece of land next door to give us room for expansion. We developed the new land three years ago and it's now beautiful parkland with a superb view and bamboo cabins which have already paid for themselves!
We are constantly making improvements (Glen likes DIY projects) reinvesting a lot of the money that we make back into Kingsacre.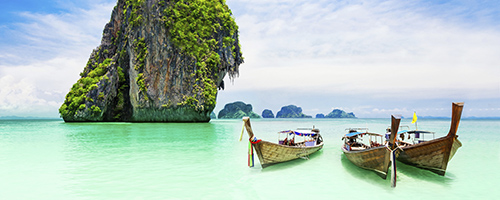 It wasn't all plain sailing though was it? You suffered a set-back very early on…
Yes, unfortunately our first Thai partner stole all of the money we'd got together for construction – about £30,000 – so we had to work very hard (often seven days a week) to get back on budget. Plus the exchange rate dropped around the same time which meant my pension was not enough to live on.
However, there was no looking back and now we are even happier doing what we do!
So what's life like on a day-to-day basis in Thailand?
We are incredibly busy, no two days are the same but it's definitely a very varied and interesting way of life. We have guests staying with us from all around the world many of whom return each year which is nice because it means we are doing something right!
Glen does the majority of the cooking for our guests and, as a qualified TESOL teacher, he is able to offer English lessons to guests during their stay.
In our spare time I swim, while Glen plays in a local pool league and occasionally plays golf.
We have a great lifestyle and feel very blessed. We always said, if we have a go and it doesn't work out at least we tried, but if we don't try we will never know.
What does the future hold for you and for Kingsacre?
We've loved living here for the last eight years and have made so many great friends but we're now looking to sell it on.
Although we will still stay based in Phuket we want to spend some more time travelling and seeing all that Thailand has to offer.
What advice would you give to anyone else thinking of moving abroad?
•There are a few pieces of advice that spring to mind – some of them were learnt the hard way:
•Use the experiences of those who have gone before you to get a realistic idea of what life will be like
•Getting a good lawyer is so important and made the process of buying in somewhere as exotic as Thailand much less stressful
•Do your own research and oversee everything yourself
•Coming on holiday and 'flashing' the cash is very different to living abroad with a budget and a dream – especially in Thailand where the people think all foreigners are rich and therefore fair game
Source: https://www.aplaceinthesun.com/news/feature/tabid/131/EntryId/3150/From-Sussex-to-Thailand-%7C-Case-Study.aspx