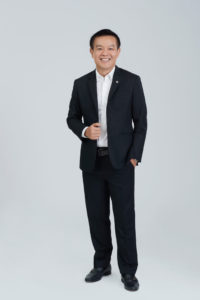 Frasers Property Thailand sustains strong growth momentum
Frasers Property Thailand sustains strong growth momentum with THB 15,840 million in first 9-months of 2020, paving the way for sustainable growth with its 'One Platform' strategy to achieve THB 20,000 million by year-end 2020
Frasers Property (Thailand) Public Company Limited (FPT), the first company with a fully integrated real estate platform in Thailand, gears towards target revenue of THB 20,000 million by the end of 2020. With its balanced and diversified portfolio, Frasers Property Thailand delivered strong first 9-month 2020 performance (January-September) despite experiencing a protracted worldwide economic downturn. The recent integration of three asset classes comprising residential, industrial and commercial under the 'One Platform' strategy builds upon the Company's capabilities and confidence to drive a resilient business in times of uncertainty.
Mr. Thanapol Sirithanachai, Country Chief Executive Officer, Frasers Property Thailand, said: "Our recent success in integrating the three high potential asset-classes over a single real estate platform brought us to the forefront role of Thailand's first pioneering real estate developer with a strong, diversified portfolio of multi-asset classes. Through the One Platform strategy, we are building FPT's business resilience to drive sustainable growth in the long-term by delivering best-in-class products and services to customers in all markets. We are confident in pursuing our goal by achieving THB 20,000 million revenue by the end of this year."
Despite the uncertainties, Frasers Property Thailand sustained its total revenue for the first 9-month performance (January – September 2020) at THB 15,840 million and increased net profit by 7.8% Y-o-Y, totaling THB 2,532 million. The increasing net profit was brought about by robust operating metrics with rental collection to-date remaining high.
Overall liquidity remained strong and is further enhanced by a successful rights' offering in early July 2020 that brought in capital of THB 3,207 million. Proceeds would be used for funding business expansion and general capital requirement. Gains from sales of land and investment monetization also provided an uplift to earnings performance, while deleveraging initiatives have successfully brought net gearing down by the end of the fiscal year. FPT remains on top of capital management and well supported by shareholders, banks and debenture investors, while TRIS credit rating on the company was reaffirmed A- with stable outlook.
Frasers Property Home (Thailand) booked THB 11,058 million revenue. The market outlook remains positive as reflected in the pickup in residential sales and is well-positioned for recovery on the back of pent-up housing demand post-COVID-19 with an emphasis on wellness, work from home, and work-life blend. The group recorded pre-sale value of THB 25,000 million and the backlog of pending transfers waiting to complete during this quarter at over THB 2,400 million. The Thai housing market points to a strong market for the remainder of the year 2020. Currently Frasers Property Home is among the Top 5 leaders in the residential real estate business with a total of 59 high-quality residential projects in various locations. It is set to expand its portfolio with three new residential projects by the end of this year, which will increase its portfolio value to THB 78,000 million in total.
Frasers Property Industrial (Thailand) recorded its first 9-month (January-September 2020) recurring rental income at THB 1,331 million. In September, the group also booked THB 1,321 million proceeds from sales of assets to FTREIT worth approximately THB 2,800 million. Overall occupancy rate remains healthy and slightly improved to 81%, with the recent accomplishment of handing over the flagship distribution center to Central Retail and the largest multi-temperature distribution center for HAVI Logistics Thailand. The net leasable areas are 75,000 sq.m. and 30,000 sq.m. respectively. The group is benefiting from both short- and long-term demand for the industrial properties driven by a structural shift in logistics and supply chains supporting the e-commerce boom during COVID-19. Frasers Property Industrial (Thailand) is on the lookout for partnership opportunities arising from the relocation of manufacturing sites to Southeast Asia, whereby Thailand will stand to benefit from future opportunities to participate in the regional value chain.
Frasers Property Commercial (Thailand) booked revenue of THB 724 million for its first 9-month period (January-September 2020). The rent relief scheme was selectively granted to aid financial hardship due to COVID-19. As at September 30, 2020, overall occupancy rate remains strong at 93%. The group has a total of five office buildings and mixed-use projects, amounting to 241,000 square metres in all with 1,100 hotel rooms and serviced apartments. Recently, Samyan Mitrtown won International Property Awards and Asia Pacific Property Awards 2020-2021. The Mitrtown Office Tower was also awarded LEED Gold certification from the US Green Building Council (USGBC).
The hospitality business, which contributed less than 2% of total revenue, remains challenging with the on-going international travel restrictions and city lockdowns that prevail in certain parts of the world.
Source: https://www.bangkokpost.com/thailand/pr/2016755/frasers-property-thailand-sustains-strong-growth-momentum