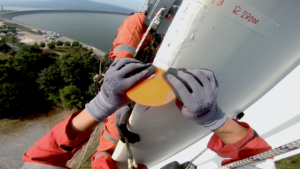 Extend Lifespan of Wind Turbine Blades with New Leading Edge Repair and Protection Solution
In response to growing market demand, polymeric technology company, Belzona, now offers a complete leading edge repair and protection solution. Optimised to be easy-to-apply, fast-curing and hard-wearing, the combination of Belzona 5711 and Belzona 5721 is specially designed to fortify wind turbine blades with outstanding protection against leading edge erosion for the long term.
New Thixotropic Paste Repair System Builds on Success of Leading Edge Protection (LEP) Coating
From Norway to North Dakota, since its launch in October 2019, Belzona's leading edge protection coating, Belzona 5721, has already been deployed at numerous windfarms worldwide to great success. Lauded as an "extremely fast and cost-effective solution for protecting leading edges" by Jæren Vind Energi AS in Norway, the turbine blade coating provides a quick and straightforward means of protecting leading edges in situ.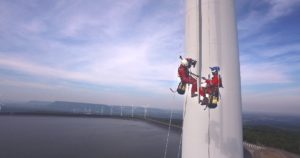 Now, building on this knowledge and experience in the field, the Company has developed Belzona 5711 – a thixotropic paste specially designed to be applied in conjunction with the Belzona 5721 protective coating (amongst other product options). This solvent-free, 2-part repair paste is specially formulated for the in situ repair and rebuilding of leading edge erosion and impact damage on wind turbine blades.
New Leading Edge Repair Paste Facilitates Fast Turnaround Time
Commenting on Belzona's new polymeric solution for the wind industry, Jason Horn, Research and Development Manager, said: "Whilst offering rapid cure, Belzona 5711 also has a good working life which allows for the material to be perfectly contoured/formed to the leading edge of the blade. This removes the need for sanding, therefore, eliminating a step in the repair process and simplifying the application."
He continued: "Belzona 5711 cures quickly and can be directly overcoated with Belzona 5721 in as little as 30 minutes at 20°C/68°F – without the need for any additional preparation. At the same temperature, Belzona 5721 will be fully cured within five hours, allowing the turbine to be returned to service in the same day."
He concluded: "With the combination of Belzona 5711 and Belzona 5721, the balance between useability and rapid return-to-service makes the products ideal for in-situ repair across a broad application temperature range. The long shelf-life also makes Belzona an ideal stocking material for wind turbine maintenance."
Key Benefits of New Belzona Leading Edge Repair Product VS. Leading Competitive Products
• 60-minute cure time in ambient temperatures ensures rapid return-to-service
• Product is suitable for all climates (5-40°C / 41-104°F) with a maximum overcoat window of 24 hours
• Cartridge packaging ensures good mixing quality and ease of use
• Easy to contour and long working-life ensures a smooth finish
• Reduced health and safety risks (CMR free labelling in EU)
• Durable technology provides a long-lasting repair
• Sanding is not required prior to overcoating with Belzona 5721, thus speeding up the application process
• Single component rather than two grades for all climates
• Three-year shelf life allows for flexibility in application planning
• Higher volume per cartridge ensures reduced packaging waste
• Can be applied either at offshore or onshore windfarms
• Can be used to repair manufacturing defects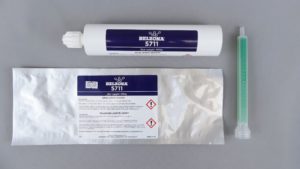 In addition, Belzona 5711 is available worldwide through the network of Belzona international Distributors. In order to ensure that the product is applied correctly, Contractors can be trained in the application of Belzona 5711 locally on site by one of the local Distributors.
Repair not Replace: Leading Edge Repair and Protection System Supports a Circular Economy
According to the European Wind Energy Association, the estimated lifespan of a wind turbine is typically 20-25 years. Environmental factors, such as weathering, lightning, icing, birds and insect collisions, can seriously limit this lifespan. In addition, there is evidence that damage to the leading edges of a turbine blade can lower the annual energy production, with energy losses that range between 4 to 20% when the damage is severe.
By investing in a high-performance leading edge repair and protection system, asset-owners can protect wind turbine blades against the environmental damage outlined above. In doing so, polymeric systems support a circular economic strategy as this technology helps to extend the lifespan of wind turbine blades. In turn, this reduces the demand for blades to be manufactured and, eventually, disposed of. Therefore, by giving the blades a new lease of life in this way, the combination of Belzona 5711 and Belzona 5721 will help towards mitigating the carbon footprint of the wind power industry.
In addition, by bypassing the expensive process of both replacing and disposing of damaged blades, asset owners will be able to make significant financial savings as well.
Safeguarding Wind Turbine Blades with Polymeric Technology Supports a Net-Zero Future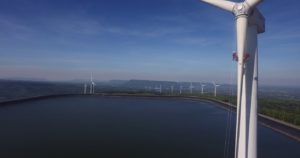 According to the 2021 State of Climate Action Report, authored by the world's top climate analysis coalition, Climate Action Tracker (CAT), in order to meet the Paris Agreement's net-zero by 2050 target, the share of wind and solar energy in electricity generation needs to increase from 7.03% (based on 2018 figures) to 37 – 72% by 2030. By 2050, the share needs to rise further to 80 – 82%.
This means that by 2050, wind and solar electricity generation needs to increase by between 72.97 – 74.7%. In order to support this seismic growth, leading edge repair and protection systems, such as Belzona 5711 and Belzona 5721, play a critical role in extending the lifespan of wind turbine blades and, therefore, supporting a net-zero future for the planet.
More information on Belzona's leading edge repair and protection solution can be found here.
About Belzona:
Established in 1952, Belzona has pioneered innovative polymer technology that has revolutionised industrial repair and maintenance procedures.
Belzona is a leading company in the design and manufacture of polymer repair composites and industrial protective coatings for the repair, protection and improvement of machinery, equipment, buildings and structures.
At Harrogate, the full Belzona product range is manufactured to stringent quality and environmental control guidelines complying with the requirements of ISO 9001:2015 and ISO 14001:2015.
Belzona has over 140 Distributors in more than 120 countries ensuring not only the availability of Belzona materials, but also specification support, project management, application and supervision services. Distributorships and their teams are supported by Belzona Corporate offices in Europe, North America and Asia.