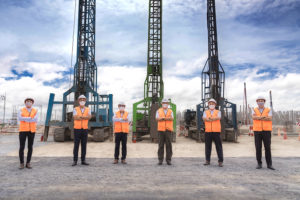 Frasers Property Industrial (Thailand) and strategic partner Mitsui Fudosan Asia (Thailand) celebrates the start of the first warehouse construction at Bangna 2 Logistics Park
Frasers Property Industrial (Thailand) Company Limited ("FPIT"), Thailand's leading industrial property developer, and Mitsui Fudosan Group, a leading real estate developer in Japan, recently organised a piling ceremony to mark the start of the first warehouse construction in Bang Na 2 Logistics Park, a joint-venture project. The warehouse is designed to offer flexibility to meet varying consumer needs after the COVID-19 situation, offering 'General Zone' for general warehouse operations and 'Free Zone' for duty-free warehouse operations. The first building is expected to be completed within end 2021.
Developed to be a 'Smart & Sustainable Logistics Park', the Bang Na 2 Logistics Park is strategically located in Thailand's Eastern Economic Corridor on Bangna-Trad Road KM46 of Bang Pakong district, Chachoengsao province, covering a vast area of 187 rai. This logistics park will provide 160,000 sqm total leasable space upon completion, and is designed to respond to varying customer needs across segments. The park will be equipped with cutting-edge infrastructure and facilities that are aligned with international environmental and sustainability standards. Under a 'Smart & Sustainable Building' concept, the park will offer 'Ready-Built Warehouse' and 'Built-to-Suit' options that integrate various innovations to support tenants' operations and enhance their customer experience.
The first warehouse construction, which spans a 23-rai land plot, provides net leasable area of 21,954 sqm. The building can be divided into four units giving flexibility to meet medium to large warehouse operations. It is designed for cross-docking operations with dock levellers, to facilitate faster and more convenient goods handling. The floor loading capacity is at 5 tons/sqm with minimum operational clear height at 12 metres to optimise heavy-load commodity management. All areas in the warehouse are installed with energy-saving LED light system and water-saving sanitary wares.
Interested parties can email FPT.sales@frasersproperty.com for more information.
Source: https://www.bangkokpost.com/thailand/pr/2143763/frasers-property-industrial-thailand-and-strategic-partner-mitsui-fudosan-asia-thailand-celebrates-the-start-of-the-first-warehouse-construction-at-bang-na-2-logistics-park-in-the-eastern-economic-corridor