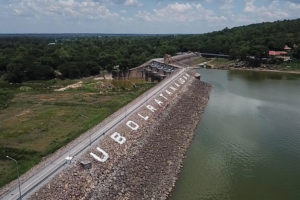 Egat readies terms for new bids for 24-megawatt floating solar farm on Khon Kaen's Ubol Ratana dam
Egat plans to develop floating hydro-solar hybrid projects at nine dams by 2037
Egat plans to seek approval from the government to develop eight fossil fuel-fired power plants
The state-run Electricity Generating Authority of Thailand (Egat) is preparing to launch terms of reference for a new bid on a 24-megawatt floating solar farm at Ubol Ratana dam.
Ubol Ratana in Khon Kaen province is one of nine dams that generate electricity under Egat's management.
The first dam for floating solar farms is Sirindhorn in Ubon Ratchathani province. Solar power generation on the water's surface requires 450 rai.
B.Grimm Power-Energy China consortium has been selected to develop the 45MW floating solar farm, which Egat claims is the world's largest hydro-floating solar hybrid power project.
Egat expects to commence operations at Sirindhorn dam by December.
Thepparat Theppitak, Egat's deputy governor for power plant development and renewable energy, said the new bid is for an engineering, procurement and construction service provider.
"Ubol Ratana dam has hydropower generation of 25.2MW and the new floating solar panels will be installed in an area of 0.3 square kilometres, representing 0.06% of the total water surface of the dam," he said.
"The project is expected to commence operation in 2023."
Mr Thepparat said Egat will revise the reference price for this auction because the development cost is lower than projected, citing the previous bid for Sirindhorn dam.
"The total value for floating solar panels at Sirindhorn dam is 842 million baht, much lower than the reference price, estimated at 2 billion baht," he said.
"The power generation cost will be lower from the previous auction, so people will benefit from cheaper power bills."
Egat plans to develop floating hydro-solar hybrid projects at nine dams by 2037.
The seven remaining dams are Bhumibol (Tak province), Srinakarin (Kanchanaburi), Vajiralongkorn (Kanchanaburi), Chulabhorn (Chaiyaphum), Bang Lang (Pattani), Ratchaprapha (Surat Thani) and Sirikit (Uttaradit).
In addition, Egat plans to seek approval from the government to develop eight fossil fuel-fired power plants under a budget of 600 billion baht such as the 650MW Nam Phong power plant, 600MW Mae Moh plant, 1,400MW Surat Thani plant and a 700MW North Bangkok plant.