Inframation releases Southeast Asia League Tables 2019: Political Uncertainty Stems Deal Flow
Inframation, an Acuris company, has released its Southeast Asia League Tables 2019 on infrastructure industries. Power and energy-related transactions dominated Southeast Asia in Inframation and SparkSpread's 2019 League Tables, as political uncertainty and regulatory risk hindered the development of traditional infrastructure projects.
The number of transactions in the region fell to 42 in 2019 from 47 in 2018. Despite this, big-ticket energy deals, such as the USD 1.1bn refinancing of the Mong Duong 2 plant in Vietnam, helped push the total transaction value for 2019 to USD 21bn, slightly above the USD 20.9bn mark from the previous year.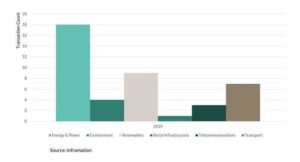 SE Asia Transaction Count by Sector
In Indonesia, President Joko Widodo – despite his electoral victory in May – did not deliver sizable transportation projects to the market. It is expected more deals to come through in 2020.
In Malaysia, the infrastructure sector continued to be impacted by 2018's shock change of government amidst intense accusations of corruption against the previous administration. The main focus has been on reviewing projects started prior to the change of government in mid-2018.
The Philippines has also experienced a slowdown in the number of PPPs, in part due to the change of leadership in the country's PPP Centre. The country moved ahead with plans to upgrade or develop four airports to service its capital, Manila, although some of them faced legal challenges.
Vietnam teased several PPP transportation projects during the year, including the construction of the VND 15trn (USD 650m) Bien Hoa – Vung Tau Expressway and the development of the VND 5.9trn Sa Pa Airport, but no transportation project reached financial close during 2019.
Cambodia, one of the frontier markets of the region, has delivered new opportunities for infrastructure financing, including the development of the Phnom Penh to Sihanoukville Expressway, a USD 1.8bn design, build, finance, operate and maintain PPP that reached financial close in May.
Top 5 SE Asia Greenfield Projects by Value (2019)
Project Name / Country / Cost (m) / Sector
Van Phong 1 1320 MW Power Plant
VIETNAM
USD 2,580.00
Power
Jambaran-Tiun Biru Natural Gas Field East Java
INDONESIA
USD 1,846.40
Energy
Phnom Penh To Sihanoukville Expressway
CAMBODIA
USD 1,800.00
Transport
Gulf PD 2.65GW Gas Fired Power Plant
THAILAND
USD 1,366.00
Power
Dau Tieng 420MW Solar Farm
VIETNAM
USD 400.00
Renewables
With fewer opportunities in the transportation sector, power dominated Southeast Asia's 2019 League Tables.
Several reasons helped power assets to maintain its momentum, including deals that were already in the works, and the increasing need for energy across the whole of Asia.
The experts also pointed out the increasing amount of infrastructure funds and institutional investors willing to move away from OECD countries and invest directly in Southeast Asia.
EY led the All Asia financial advisors ranking by both value and deal count (6 deals worth USD 10.3bn).
Cyril Amarchand Mangaldas led the All Asia legal advisors ranking by both value and deal count (22 deals worth USD 14.7bn).
Sumitomo Mitsui Banking Corporation (SMBC) topped the All Asia loans league table by both value and deal count (23 deals worth USD 3.1bn).
Citigroup topped the All Aisa bond arrangers league table by both value and deal count (9 deals worth USD 1.0bn).