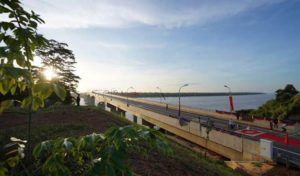 COVID-19 did not impede construction of infrastructure projects in Cambodia
Senior Minister Sun Chanthol, Minister of Public Works and Transport, said that the outbreak of COVID-19 in Cambodia for almost two years has not affected the construction of roads and bridges in Cambodia.
At the inauguration ceremony of the "Cambodia-China Stung Trang-Kroch Chhmar Friendship Bridge" or "Bridge connecting nature" yesterday, he confirmed that all projects have been completed as planned and none of the proposed projects have been postponed or cancelled.
According to the Senior Minister, five other major infrastructure projects are scheduled to be inaugurated soon by Prime Minister Hun Sen.
These projects include: Inauguration of National Road No. 11 connecting Neak Leung to National Road No. 7, Inauguration of National Road No. 5 from Battambang to Serey Sophorn, Inauguration of National Road No. 7 from Kratie to Stung Treng, Inauguration of 7 bridges (2 bridges on Road 11, 5 bridges on National Road 73) and inauguration of National Road 3.
Senior Minister Chanthol also confirmed that in addition to the project that will be inaugurated, many other infrastructure projects are still under construction and many more are being studied for construction.
Source: https://www.khmertimeskh.com/50976498/covid-19-did-not-impede-construction-of-infrastructure-projects-in-the-country/