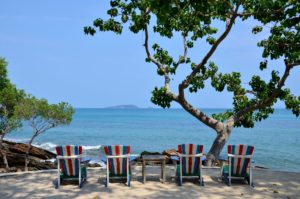 Covid-19 cases spike in Bangkok while declining in most Thai islands and rural provinces
David Luekens's excellent and comprehensive summary of the Covid situation in Thailand of 22 May 2021
I produce these summaries by reviewing hundreds of articles, statistics, statements by officials, insights from people I trust and posts by journalists. Despite all of the work involved, this is nothing more than a news round up. Branch into the links that dot the summary for more depth from the many journalists covering the situation on the ground.
The Covid-19 situation looks grim after thousands of cases surfaced in prisons and a variant that's ravaging India was detected for the first time in Thailand. As bad as things seem today, look closer and you will find positive news. Cases are subsiding in most provinces as Thailand inches closer to mass vaccinations.
By the numbers
Thailand reported 44,211 cases, or 3,158 per day on average, since my last Covid-19 update two weeks ago. The sharp increase is partly due to 14,049 cases found in 11 prisons, mainly in Bangkok and Chiang Mai, over that span.
On May 17th Thailand hit its single-day case record of the entire pandemic when 9,635 cases included 6,853 that had been accumulating in prisons. The country's total pandemic numbers now stand at 123,066 cases and 735 deaths, with 94,203 of those cases and 641 of the deaths coming over the last two months.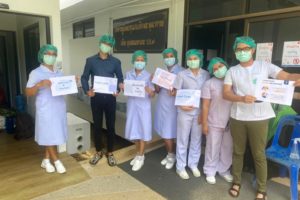 The focus is increasingly on Bangkok, where authorities reported 14,654 cases among the general public over the past two weeks. Add nearby areas and the two-week case number for metro Bangkok spikes to 21,698 — and that figure does not include the thousands of cases found in Bangkok-area prisons.
The good news is that case numbers are trending down in most areas beyond metro Bangkok. Many provinces have been reporting daily cases in the single digits, with zero found in more than 20 provinces on some recent days.
Chonburi province (including Pattaya) reported 871 cases over the fortnight, a sharp decline compared to previous weeks. Daily cases there fell into the 30 to 40 range until more than 120 cases surfaced yesterday, mainly among migrant workers who are being proactively tested at factories and construction sites.
Not including provinces that border Bangkok like Samut Prakan, the next highest two-week case count among coastal provinces is Surat Thani with 476 (steady), followed by Phetchaburi with 432 (trending up), Chanthaburi with 394 (trending down), Prachuap Khiri Khan with 372 (trending down), Ranong with 362 (trending up), Songkhla with 354 (trending up), and Rayong with 244 (steady).
Satun province (home to Ko Lipe) reported only one case, total, over the past two weeks. Chumphon and Trat each found only 17 and Phang Nga had just 22. Krabi, Trang, Phatthalung and Pattani all fell into the 60 to 110 case range over the fortnight, and cases in all four of these provinces are trending down. The situation looks similarly manageable in most of the upcountry provinces.
Read More at: https://thaiislandtimes.substack.com/p/covid-19-cases-spike-in-bangkok-while