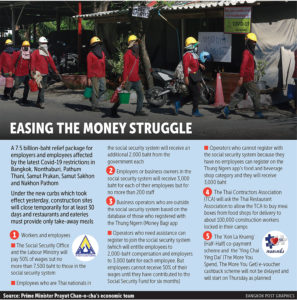 Construction site workers confined to camps during 30-day closure of construction sites and workers' camps in Bangkok and surrounding provinces
The Interior Ministry has ordered all provincial governors to tighten controls to prevent the movement of workers following the 30-day closure of construction sites and workers' camps in Bangkok and surrounding provinces.
The surge in Covid-19 infections has prompted the government to impose restrictions on the movement of construction workers who will be confined to their temporary shelters for at least 30 days on 50% wages.
Interior Minister Anupong Paojinda said yesterday construction sites and workers camps are high-risk areas and limiting workers' movements is essential to curbing the increase in coronavirus cases and averting shortages of beds.
"We must control their movement and control it well. Otherwise, we will face shortages of beds. Their movement must be halted. They will be confined to the sites," he said.
He said food and construction businesses are coordinating to distribute food and essential supplies for the workers, when asked about media reports that some workers had broken the isolation order by leaving their camps to buy supplies.
He also said local leaders and village volunteers are also closely monitoring arrivals in their communities following reports that many workers had returned home over the weekend to avoid being stuck in the capital.
"The workers who returned home will be required to isolate at home," Gen Anupong said.
Prof Prasit Watanapa, dean at the Faculty of Medicine of Siriraj Hospital and adviser to the government, said all the provincial communicable disease committees were informed of the closure in advance to allow them to prepare for returning workers.
He said he expected the number of infections to increase further due to the mass testing currently being carried out in many of the sealed sites.
Bangkok Metropolitan Administration (BMA) officials said yesterday that security forces had been dispatched to guard construction camps and workers' housing facilities on Friday and by Sunday, 77 out of 575 camps in 50 districts were completely sealed off.
It was also report that 411 out of 1,212 workers at two camps in Huai Khwang and Phaya Thai districts had tested positive for the virus.
Meanwhile, in Phitsanulok, five checkpoints have been set up to screen people arriving in the province for two weeks until July 11 after the shutdown of construction sites.
Community volunteers have made house visits and have registered more than 300 returnees on the "Save Phitsanulok" application for further monitoring, according to officials.
In Mae Sot district of Tak, health official said yesterday about 600 Covid-19 cases had been found in a garment factory over the weekend
Source: https://www.bangkokpost.com/thailand/general/2139931/govt-prioritises-confining-construction-site-workers