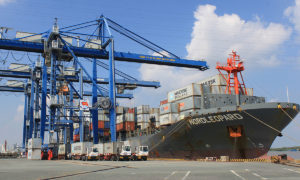 Construction of two new railway routes proposed to serve Vietnam's major ports
Vietnam Railway Authority has suggested foreign investment could aid the construction of two railways to Lach Huyen and Cai Mep – Thi Vai international ports.
In a proposal sent to the Ministry of Transport Tuesday, Vietnam Railway Authority (VRA) said the railway project to Lach Huyen port in northern Hai Phong City would start from Du Nghia station of the Gia Lam – Hai Phong railway between Hanoi and Hai Phong.
The project will cost an estimated VND32.6 trillion ($1.43 billion), with an expected capital recovery period of 25 years.
The other project proposed is the Bien Hoa – Vung Tau railway that would run 84 kilometers (52 miles) parallel with National Highway 51. It is expected to cost VND56.8 trillion and involve 19 years for capital recovery.
The railway will run through Cai Mep – Thi Vai port in Ba Ria – Vung Tau Province that borders Ho Chi Minh City.
Currently, goods from Vietnam's two major sea ports are mainly transported by road, leading to high logistics costs and resulting congestion.
Source: https://e.vnexpress.net/news/news/railways-proposed-to-serve-vietnam-s-major-ports-4393455.html