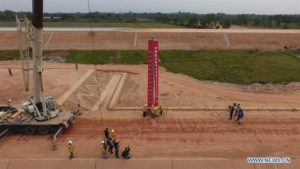 Construction of China-Laos railway power supply project starts
The power supply project for the China-Laos railway, which was fully carried out on Wednesday (March 18), lays foundation for its scheduled operation in 2021.
Along all the four bidding sections of the project in northern Laos, Chinese and Lao engineers cast concrete to cement the first four power tower foundations along the railway.
The power supply project for the China-Laos railway is the first BOT (build-operate-transfer) power grid project in Laos, a key project to guarantee the scheduled operation of the China-Laos railway and of building the China-Laos community with a shared future. It is also a symbolic project of the Belt and Road Initiative to advance infrastructure connectivity.
The project, running along the China-Laos railway through five provincial administrative regions in northern Laos, will build 20 circuits of 115kV transmission lines with total length of 268 km and 635 power towers, and extend 11 bays in 10 substations, in order to supply power from the state-run Electricite du Laos grid to 10 railway traction substations.
The project is invested and built by a joint venture, namely Laos-China Power Investment Company, co-sponsored by China Southern Power Grid (CSG) and the state-run Electricite du Laos (EDL), and implemented mainly by CSG's engineering companies.
For high-quality implementation of the power supply project and presenting a Lao demonstration BOT project, the CSG has unified corporate image, staff residence and its access management, adopting standardized management along the China-Laos railway construction sites.
The CSG project team told Xinhua on Wednesday that as a key process in the construction of transmission lines, the first foundation casting, has set a model for the construction technical standards and engineering safety standards, which is of great significance to ensure the quality of the project.
The China-Laos Railway is a strategic docking project between the China-proposed Belt and Road Initiative and Laos' strategy to convert itself from a landlocked country to a land-linked hub.
The 414-km railway, with 198-km tunnels and 62-km bridges, will run from Boten border gate in northern Laos, bordering China, to Vientiane with an operating speed of 160 km per hour.
The electrified passenger and cargo railway is built with the full application of Chinese management and technical standards.
The project started in December 2016 and is scheduled to be completed and opened to traffic in December 2021. – Xinhua
Source: https://www.thestar.com.my/news/regional/2020/03/18/construction-of-china-laos-railway-power-supply-project-starts