CK Power Plc, the electricity arm of Ch. Karnchang Plc, Thailand's second-biggest construction firm, is looking at further expansion into renewable energy over the next few years.
The company is preparing to conduct a feasibility study of renewable projects and is in talks with solar power licence holders, said managing director Supamas Trivisvavet.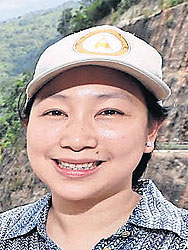 Supamas: Revising revenue goal higher
CK Power is interested in all kinds of renewables, including waste-to-energy, biomass, biogas and solar farms.
For 2015-16, CK Power will have no new capacity because most of its mainstream power projects will begin operating in 2016.
Renewable energy, which takes a much shorter time to develop — six to 12 months — than fossil power, will help the company maintain revenue growth after 2016.
CK Power has three solar farms generating a total of 24 megawatts since 2013.
"The government has attempted to encourage renewable development through incentives to support developers of all types of renewable energy, so it's time to look for more opportunities," Ms Supamas said.
The company has revised its 2015 revenue growth target to 30% from the previous 20% because of capacity expansion.
For 2014 it expects 7 billion baht in revenue.
New capacity that went on stream the past year included the Nam Ngum 2 hydropower plant in Laos (615 MW), the Bang Pa-in co-generation plant in Ayutthaya (117 MW) and a third solar farm unit in Nakhon Ratchasima (8 MW).
Ms Supamas said CK Power last week signed a loan deal with Krung Thai Bank and Kasikorn Bank to develop a new 120-MW co-generation plant at Bang Pa-in worth 4 billion baht.
Commercial operation at the plant would begin in 2017.
CK Power's combined generating capacity at present is 754.5 MW.
Apart from new renewable projects, the company has set aside a capital expenditure budget for 2015-16 of 22 billion baht.
The expenditure will go to the 160-MW Nam Bak hydropower project in Laos, worth 17 billion baht, and the remaining 5 billion baht will fund Bang Pa-in's second unit.
CK Power is waiting to bid on the small power producer programme, which includes eight projects with a combined capacity of 100 MW.
Plans call for the company to refinance its 17-billion-baht debt in order to curb financial costs.
No details of the refinancing scheme have emerged yet.
Shares of CKP closed yesterday on the Stock Exchange of Thailand at 18 baht, up 10 satang, in trade worth 35 million baht.
Source: http://www.bangkokpost.com/business/news/453022/ck-power-explores-renewable-projects