CG Corporation to form business partnership for power generation system in Rayong's CPGC industrial estate
Thai-Chinese joint venture CG Corporation is in talks with independent power producers (IPPs) to form a business partnership for a power generation system in the CPGC industrial estate.
Founded with paid-up capital of 2 billion baht, CG Corporation is a joint venture between CP Land, the property arm of Charoen Pokphand Group, and China's Guangxi Construction Engineering Group.
CP Land owns a 50% stake, the Chinese group holds 48% and a local subsidiary, Guangxi Construction Engineering Yian Thailand, accounts for the remaining 2%.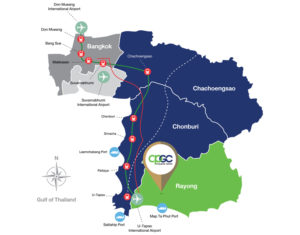 The new industrial estate, CPGC, is being developed on a plot of 3,086 rai in Ban Khai and Nikhom Phatthana districts in Rayong.
This project is estimated to cost 10 billion baht to develop, approved by the Industrial Estate Authority of Thailand.
Sunthorn Arunanondchai, CG Corporation's chairman, said the new power project is planned to have an installed capacity of 100 megawatts to supply plants and factories in the industrial estate.
"This venture will be concluded with IPP companies in the first quarter of 2021 and the power project will begin construction in 2022," he said.
"The company plans to develop this power project in three phases and the first development will have installed capacity of 38MW."
CG Corporation expects a development budget of US$1.4 million per MW.
"This power project is basic infrastructure for the CPGC industrial estate and the company is accelerating the plan to serve investors planning to buy plots there," Mr Sunthorn said.
The CPGC industrial estate targets companies from mainland China, Hong Kong and Taiwan, emphasising new projects in the 12 target industries under the government's S-curve policy.
CG Corporation signed a lending contract with Krungthai Bank to finance this industrial estate to the tune of 5 billion baht.
Kontee Tirawipas, CG Corporation's managing director, said the industrial estate will be developed in three phases.
The first development began in 2019 on 1,000 rai, including a three-kilometre main road, water reservoir, power project and water re-treatment and management.
"The first phase was allocated a budget of 1 billion baht," he said.
"The second phase will begin development in the fourth quarter of 2020 with an outlay of 800 million baht on 1,000 rai for a two-kilometre road expansion.
"The third phase is scheduled to start in 2021 with a budget of 500 million baht on the remaining plot for build-to-suit factories."
CG Corporation is spending 2.3 billion baht to develop the three phases and the land cost for this industrial estate stands at roughly 3 billion baht, said Mr Kontee.
The CPGC industrial estate is scheduled for completion in 2022.
CG Corporation expects this project will attract new investment flow of 60 billion baht and create 20,000 jobs in Rayong.
Source: https://www.bangkokpost.com/business/1850724/ipps-being-brought-on-board-for-cpgc