Central Village prepares to open phase two of the shopping mall near Bangkok's Suvarnabumi Airport in Samut Prakan province
Discover over 300 international and local brands and so much more
Central Village, a joint venture between Central Pattana Plc. and Mitsubishi Estate (Thailand) Co. Ltd., a subsidiary of global real estate Mitsubishi Estate Co. Ltd., has announced its success and a plan to open phase two on January 28, 2022, reinforcing its position as Thailand's first real luxury outlet.
The total project worth five billion baht provides not only a shopping venue for branded items but also a complete lifestyle destination. The development will utilise the strength and expertise of the partnership of Central Pattana and Mitsubishi Estate (Thailand) in order to create a luxury outlet that meets global standards. The company is planning to focus on Central Pattana's nationwide customer base with high purchasing power across Thailand via Chat & Shop services. After seeing an impressive sales growth of 70 percent during the lockdown for Central Village, the company is looking to build upon its success model by launching its second phase on 28 January 2022 with 300 leading brands of all tiers in both phases. Watch a sneak peak of Central Village Phase II from this link https://youtu.be/kyKGOyV2b_w
Mr. Chart Chirathivat, Executive Vice President for Regional Development of Central Pattana, said, "Central Village will revolutionise the Thai retail industry as Thailand's first luxury outlet to meet global standards. It will be a new retail platform to help drive the country's ability to compete at the international level. In its first phase, which began with the opening in August 2019, Central Village has always received good responses from Thai and international shoppers. This has become a successful model used for the second phase, which will be open on 28 January 2022 to reinforce Central Village's position as the first real luxury outlet of Thailand which provides experiences beyond branded item shopping. It will be a new lifestyle destination that caters to all lifestyles."
"In addition, our partnership with Mitsubishi Estate (Thailand) will be another key factor to drive the development of Central Village to a level far beyond any other outlets in Thailand. Central Pattana has the expertise in developing 'destination landmarks' around the country. We are focusing on a customer base with high purchasing power of our 36 Central shopping centres in Thailand and overseas, expanding our intensive omnichannel. At the same time, Mitsubishi Estate Group has the experience in developing Asia's renowned outlets. This means Central Village, in its second phase, will be a luxury outlet created by two top regional developers that is on par with any world-renowned outlets in terms of potential and standards," said Mr. Chart.
"The second phase of Central Village is designed to be connected with the first phase and to showcase the unique modern Thai identity inspired by Thai way of life, arts and culture. It will present the architecture of contemporary Thai villages. Four villages are added in phase two, namely the Textile Village which features motifs from Thai textile patterns, the Brick Village which showcases unusual brick layouts, the Porcelain Village which showcases playful Thai porcelain designs and the Goldsmith Village which expresses opulence and sophistication via gold and silver patterns. Focusing on the outdoor experience, the design also provides wide roofed pathways to increase convenience to shoppers, supplemented with lush greenery, fountains, and mountains as well as highlight photo spots and Instagrammable landmarks. Events and art fairs will be held throughout the year," he said.
Mr. Tomohiko Eguchi, Managing Director of Mitsubishi Estate (Thailand), said, "Central Village is a significant project for the Mitsubishi Estate Group, as it is the first luxury outlet mall development and investment project in the South East Asian region." Mr. Eguchi also emphasised the success of the 1st phase of operations, fuelled by the resilient partnership with Central Pattana and the 'Two Nations, One Success' concept created between the parties. Further, Mr. Eguchi believes in the high potential of the Thai tourism industry and foresees it to rebound, as well as the growth of local purchasing power to concurrently expand in the mid-to-long term. Mr. Eguchi said, "Through its luxurious and exclusive shopping experience, Central Village provides a new and sophisticated lifestyle to the local guests, whilst at the same time enabling prestigious brands to further reinforce and enhance their brand image by operating in this luxury outlet mall. For the 2nd phase of this luxury outlet mall, there are plans to bring more Japanese tenants and provide 'uncompromised guest services' that always exceed expectations, bringing 'comfort' and 'pleasure', so as to welcome more Thai, Japanese living in Thailand and also foreign tourists coming to Thailand."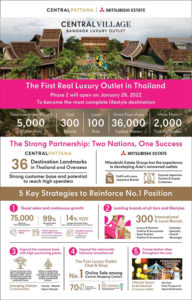 Dr. Nattakit Tangpoonsinthana, Executive Vice President of Marketing of Central Pattana, said, "We have been successful in creating Central Village as Thailand's first real luxury outlet in Thailand by offering a world-class luxury outlet experience. After the success of the first phase, we are able to pinpoint the strength and difference of our project, which can attract and cater to customers of all lifestyles. Central Village is, therefore, one of Central Pattana's best and most complete lifestyle destinations that is beyond a place to shop for branded items."
Central Pattana has developed five key strategies to ensure a long-lasting success for Central Village.
1. Good sales and continuous growth
Central Village witnessed an impressive success in its first phase, including high traffic on its opening day and an occupancy rate that has always remained at 99 percent. After the recent lockdown was lifted, transactions increased by 14 percent when compared to the previous year.
Brands seeing the impressive sales here include: JIM THOMPSON FACTORY STORE (which sees success in its annul sale events), THE COSMETICS COMPANY STORE, as well as the exclusive stores: ERMENEGILDO ZEGNA, POLO RALPH LAUREN, CALVIN KLEIN, TOMMY HILFIGER, MARIMEKKO, BATH & BODY WORKS, VICTORIA'S SECRET. While other brands enjoying great sales include OUTLET BY CLUB21, COACH, MICHAEL KORS, KATE SPADE, ADIDAS.
In the second phase, the outlet will build confidence of its partners by using marketing strategies to increase the traffic volume. The company has been successful in such strategies in all its projects, including the new Central Siracha and Central Ayutthaya which saw great traffic volumes since the opening day. In addition, the outlet is offering its tenants the Flexible Leasing Programme to build their confidence and support their business expansions.
2. Be the venue with leading brands of all tiers and lifestyles
Central Village is the place for luxury brands and bridge lines in all categories. The whole project is housing 300 leading brands such as:
Luxury & Premium Fashion & Accessories: CALVIN KLEIN, COACH, ERMENEGILDO ZEGNA, KATE SPADE, KENZO, LUX GALERIE (MOSCHINO, ALICE+OLIVIA, VIVIENNE WESTWOOD), MAX&CO., MARIMEKKO, MICHAEL KORS, OUTLET BY CLUB 21, POLO RALPH LAUREN, RUNWAY EIGHTY (CHLOE, JIMMY CHOO, VALENTINO), SALVATORE FERRAGAMO, SWAROVSKI, VILEBREQUIN, WEEKEND MAXMARA, SIWILAI, TUMI
Sport Fashion: ADIDAS, CARNIVAL, CHAMPION, CONVERSE, DUCATI, ELEMENT 72, LE COQ SPORTIF, ONITSUKA TIGER, PUMA, QUIKSILVER, RIP CURL, SKECHERS, SUPERSPORTS, UNDER ARMOUR
Fashion & Accessories: ALDO, ANELLO, CATH KIDSON, COCCINELLE, CROCS, DAKS, ECCO, FITFLOP, G2000, GIORDANO, GUESS, KEDS, KENNETH COLE, KIPLING, LEE WRANGLER, LEVIS, MELISSA, PANDORA, PLAYBOY SANRIO, SUNGLASS HUT, TOMMY HILFIGER, VICTORIA'S SECRET, WATCH STATION
Cosmetic: BATH & BODY WORKS, COS MARCHE, KARMART, L'OREAL LUXE, NATURE RETREAT, THE COSMETICS COMPANY STORE
Specialty: BOOTS, ELEPH, JIM THOMPSON FACTORY STORE, LEGO, NARAYA, OWNDAYS, SAMSONITE, PASAYA, RESTIER
Food & Beverages: A PINK RABBIT CAKE CAFE + PALETTE, BONCHON, CAFÉ AMAZON, CHATRAMUE, FRESH ME, FUJI RESTAURANT, LAEM CHAROEN SEAFOOD, LAOYUAN, TIEWKAITALUENG, MK RESTAURANTS, OLINO CREP & TEA, RED DIAMOND SPECIALTY COFFEE, STARBUCKS, SUSHI HIRO, SWENSENS
In the second phase, a number of lifestyle brands will have their outlet presence at Central Village. Meet sport & adventure brands to serve various sport lifestyles like golf and running. There will be cosmetic brands and fashion brands like POMELO, BEAUTRIUM. To meet the need of family groups, there will be popular toy store from Japan. Pet N Me will have its outlet presence for the first time, introducing a new category to a Thai outlet. B2S will open its first time outlet store. For technology lovers, meet XIAOMI BY Dimi Technology.
3. Expand its customer base with high purchasing power
Central Village is able to attract customers with high purchasing power from other catchments across Bangkok CBD. About 70 percent of its customers are from Bangkok and peripheral areas. Others include those living in nearby mid and high-end residential estates or attending nearby international schools. Central Village has been successful in creating lifestyle communities such as:
For the family group, Central Village will add more renowned Japanese brands of home & living products, kitchen products, and toys and clothing. It will also have a full-scale playground, a pet-friendly environment and a pet owner community, and Japanese-style coffee and tea shops.
For the wealth group, Central Village will hold activities catering to high spenders such as weekly supercar meetings. It will also target high spenders at various Central shopping centres across the country via CRM marketing.
For the sport lifestyle group, the project will act as a sport destination targeting those engaged in various sports including skateboard. There will be new brands including running shoes and equipment store Rev Runnr, camping store Columbia, and other stores for golf, cycling and running, as well as a skate park, among others.
4. Expanding the nationwide intensive omnichannel
The Chat & Shop services are key to the "perfect integration" with all Central shopping centres across the country with the ability to target high-spending customers of other Central shopping centres for CRM marketing. The network of shopping centres all over the country provides an unbeatable advantage.
In addition, Central Village will be a hub for cross border distribution services targeting Asian and ASEAN countries, particularly CLMV countries and Malaysia. This is not only an adaptation to better cater to the customers but is also a strategy to increase sales of tenants and support their continuous business expansion and growth.
5. Be beyond an outlet by creating festive vibes throughout the year
Central Village will provide more than mere outlet shopping experiences. In the second phase it will also be a food destination where visitors find numerous famous restaurants and a Japanese food alley. There will be attraction landmarks such as a large fountain in a Thai heritage architectural style surrounded by varieties of trees and plants.
As year-end approaches, a giant Christmas tree stands at the fountain plaza and the whole area is lit to create festive vibes rivalling overseas outlets as part of the Forwarding Happiness 2022 campaign. Naturally, Instagrammable photo landmarks are available throughout Central Village.
Central Village has a project value of five billion baht with a total available space of 36,000 square meters and more than 2,000 parking spaces. It located near Suvarnabhumi Airport and is 30-45 minutes from Bangkok CBD. Central Village offers the best outlet deals for branded items, with promotions of up to 35-70 percent or up to 90 percent during special campaigns. It is open every day from 11.00 am to 9.00 pm from Monday to Friday, and 10.00 am to 10.00 pm on Saturdays, Sundays and public holidays. For more information, interested individuals should visit its website at http://www.centralvillagebangkok.com, contact the Line account @centralvillage, or visit the Facebook page Central Village or Instagram account centralvillagebangkok.
Source: https://www.bangkokpost.com/thailand/pr/2231775/central-village-prepares-to-open-phase-two