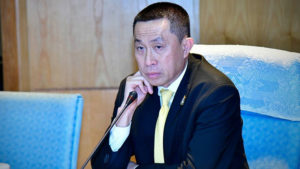 Thailand's estimated 1.49 trillion baht megaprojects plan for transport infrastructure
Project to improve land, sea, air links
The government has unveiled a plan to invest in various megaprojects worth an estimated 1.49 trillion baht this year, to improve Thailand's land, sea and air connectivity.
Transport Minister Saksayam Chidchob announced the plan at a seminar titled "Thailand Future Smart & Sustainable Mobility", which was organised by the Transport Ministry on Thursday.
He said the ministry has come up with a plan which will see significant investments channelled into the construction of additional land, sea and air transport infrastructure across the country.
The plan, worth over 1.49 trillion baht in total, includes 516-billion-baht worth of projects which have already been approved.
Contracts for the remainder, worth 974 billion baht, will be agreed on later, the minister said.
He said 1.24 trillion baht will be spent on the procurement of raw materials and equipment for the projects, which will create some 154,000 jobs.
Citing research published by the Global Infrastructure Hub and Cambridge Economic Policy Associates of the European Union, Mr Saksayam said the investment will bring in some 400 billion baht a year, equivalent to about 2.35% of Thailand's gross domestic product (GDP).
The projects have been put in the ministry's long-term strategic action plan, so they will carry on regardless of who is transport minister, he said.
"The ministry conceived this investment as a 20-year plan," he said.
If everything goes as hoped, the project will increase Thailand's competitiveness in the world market in terms of logistics and transport, which would in turn benefit all Thais.
As part of the plan, the ministry will construct two motorways, namely the 196-kilometre-long M6 between Bang Pa-in and Nakhon Ratchasima, and the 96-km-long M81 between Bang Yai and Kanchanaburi.
The projects are worth 81 billion baht and 62 billion baht, respectively.
Under the plan, the government will also expedite the construction of two railway sections which form a key part of the Thai-Chinese high-speed railway project, namely the 253-km stretch between Bangkok and Nakhon Ratchasima, and the 356-km track between Nakhon Ratchasima and Nong Khai.
The high-speed rail link between Don Mueang, Suvarnabhumi and U-Tapao airports, announced previously, is also a part of the ministry's investment plan.
Source: https://www.bangkokpost.com/business/2250863/b1-49tn-plan-for-transport-infrastructure