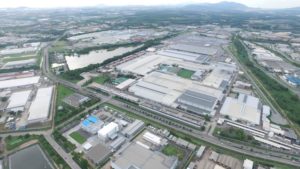 WHA Corporation, Thailand's largest developer of built-to-suit logistics facilities sees years of robust growth ahead
SET-listed WHA Corporation, Thailand's largest developer of built-to-suit logistics facilities, expects its total revenue to rise to 21 billion baht by 2026, driven by organic growth, notably business expansion projects.
The company predicts double-digit annual revenue increases up to 2026, with 2022 earnings expected to increase by 10%, said Jareeporn Jarukornsakul, WHA chairman and group chief executive.
In 2021 the company's total revenue, including its share of profits in power businesses, increased by 28% year-on-year to 12 billion baht.
"The global economy is recovering despite the Omicron outbreaks. Businesses can adjust themselves to the pandemic while Thai exports continue to grow," Ms Jareeporn said.
WHA has allocated an investment budget worth around 50 billion baht for its business expansion in Thailand and Vietnam under its five-year plan, which starts this year.
"The company expects to spend 18 billion baht investing in logistics and the equal amount of 18 billion baht in industrial estate projects," said Ms Jareeporn.
A smaller portion of 10 billion baht will go to utilities and power businesses while the remaining 4 billion baht will support digital technology and startup development projects, she said.
In 2022, WHA set a sales target of 1,250 rai of land in its industrial estates, particularly in Thailand and Vietnam, an increase from 885 rai last year, as customers in Japan and China want to expand investment projects.
In Thailand, the company plans to develop more land in WHA Eastern Seaboard Industrial Estate 4 by 580 rai, with construction having started in the last quarter of 2021.
Construction on the first phase of WHA Industrial Estate Rayong, spanning 1,100 rai, is expected to start at the end of this year. The project is a co-investment with IRPC Plc, the petrochemical arm of PTT Group.
In Vietnam, WHA plans to start the second-phase development of Nghe An industrial estate, covering 2,200 rai, in the first quarter of this year.
"We expect to benefit from relocation of production facilities from China as a result of the US-China trade war, labour cost issues and an energy shortage," said Ms Jareeporn.
Development of two new industrial estates — WHA Smart Technology Industrial Zone-Thanh Hoa and WHA Northern Industrial Zone-Thanh Hoa — is also in the pipeline.
In the power segment, WHA plans to develop renewable energy solutions and expand its rooftop solar panels and waste-to-energy projects, with electricity generation capacity set to increase by 150 megawatts under power purchase agreements by the end of this year.
The firm expects its total capacity to reach 700MW this year, calculated as a proportion of its shareholding in power businesses.
Source: https://www.bangkokpost.com/business/2257907/wha-sees-years-of-robust-growth-ahead