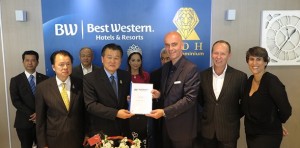 Four new-build Best Western Plus properties totalling 4,150 keys will include the three largest hotels in Best Western system.
Best Western Hotels & Resorts announced major activity in Thailand, with the signing of the largest-ever multi-hotel agreement in the company's storied 70-year history. The signing of an agreement with real estate developer A.D. Houses Co. Ltd. will lead to the opening of four Best Western Plus hotels in top resort destinations across Thailand. Three of the four new-build hotels will be the largest properties in the international Best Western Hotels & Resorts portfolio.
"In addition to celebrating Best Western's 70th birthday this year, 2016 also marks our 15th year of having a strong presence in Asia. I am thrilled to mark these milestones with the signing of such an important agreement," said Ron Pohl, Best Western Hotels & Resorts' Senior Vice President of Brand Management.
"With Best Western's Asia Head Office located in Bangkok, Thailand is very much our 'home' market in Asia, and as such, we have a strong commitment to continue development across the country. A.D. Houses Co. Ltd. is a highly respected real estate company in Thailand and by aligning with them, we now have the opportunity to further strengthen our presence here, contributing to the fast-growing Thai tourism and hospitality sectors. We look forward to working with A.D. Houses Co. Ltd., as we embark upon an exciting new journey together," said Olivier Berrivin, Best Western Hotels & Resorts' Managing Director of International Operations – Asia.
Best Western Hotels & Resorts currently operates a portfolio of eight hotels and resorts in Thailand under the Best Western, Best Western Plus and Best Western Premier brands. Collectively, the four new-build hotels included in this landmark deal represent 4,150 keys. Three of the properties are located in Pattaya, marking the company's entry into this thriving tourism market. The fourth is in Hua Hin. These properties will be Best Western's largest properties globally.
The new hotels are: The Best Western Plus AD Wongamart Pattaya (500 keys), Best Western Plus AD The Grand Jomtien Beach Pattaya (1,400), Best Western Plus AD Bang Saray Lake and Resort (1,200) and Best Western Plus AD Hua Hin Lake and Resort (1,050).
In addition to announcing its deal with A.D. Houses Co. Ltd., Best Western Hotels & Resorts simultaneously announced its first two Vīb hotels in Thailand, which are expected to open in Bangkok in 2017 and 2018.
Source: http://www.traveldailynews.asia/news/article/61305/best-western-signs-landmark-agreement