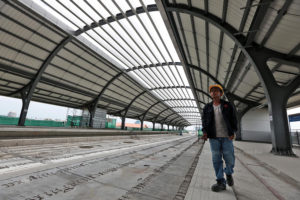 Bangkok land access glitch delays Mass Rapid Transit Authority's (MRTA) north-south Yellow Line, Pink Line has similar land issues
The opening of the new north-south electric railway project or the Yellow Line, which links Lat Phrao with Samrong, will be delayed to mid-2022 because of construction area access issues.
Builders have not been allowed to access parts of the 30.4-kilometre route, as some areas including median strips which are not owned by the Mass Rapid Transit Authority (MRTA) of Thailand, which runs the 45.7-billion-baht project, MRTA governor Pakapong Sirikantaramas said yesterday.
Talks on route design with land owners in other state agencies will be required before they relinquish their property for construction, he said.
Mr Pakapong said traffic islands along roads from Srinakarin in Bangkok to Samrong in Samut Prakan belong to the Highways Department, while permission would be needed from other agencies to remove public utilities.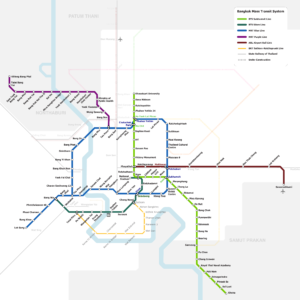 All the hitches caused the MRTA board to resolve on April 22 to extend the construction period for another 265 days, he said.
Sorting out the land issue will push back the Yellow Line's opening date, previously expected in October 2021, to July 2022.
"It's not the fault of the contractors," said Mr Pakapong. "We're facing unexpected problems."
BSR Joint Venture was awarded the project after the group won bids for the Yellow and Pink lines under the public-private partnership (PPP) scheme in 2016.
The Pink Line, a 34.5km stretch from Nonthaburi's Khae Rai to Bangkok's easternmost district of Min Buri, is also encountering similar land access issues, he said.
The MRTA is discussing with BSR Joint Venture about the need to extend the construction period, said Mr Pakapong.
Like the Yellow Line, the 53.5-billion-baht project was also originally scheduled to open next year.
Source: https://www.bangkokpost.com/thailand/general/1913156/land-access-glitch-delays-yellow-line