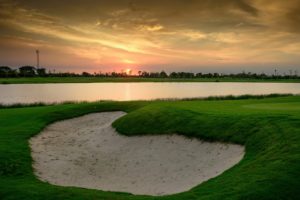 New Golf Club, the Siam Country Club Bangkok, close to Suvarnabhumi International Airport set to open soon
Located on the 22nd Km on Bangna-Trad Highway, this new club is simple called Siam Country Club Bangkok.
This will be the fifth addition of the Siam Country Club.
This masterpiece 18-hole championship, 7,250 yards, expected to open before the end of 2021, was meticulously designed by Toby Cobb, design associate of the Coore and Crenshaw Design, who is responsible for numerous world-renowned golf courses.
It was built by Golf East Co., Ltd, who also built the Banyan Golf Resort in Hua Hin, and Nikanti GC in Bangkok.
Zoysia is used in the fairway while Ultra-Dwarf Bermuda is used on the greens.
The Office of Bangkok Architect masterfully creates and supervises another unique 4,400 sqm grand and comfortable clubhouse amenities familiar to the fans of Siam Country Club Pattaya, home of the Honda LPGA Thailand at the Old Course. SMCC (Thailand) is the contractor of this clubhouse.
This unique golf course is distinct from many of those surrounding Bangkok's golf courses.
According to the club's website, the fairways are gentle with a soft rolling slope. Unlike many around Bangkok, only four water holes come into play.
Many potted grass face bunkers are scattered throughout the course and are uniquely small but playable. All turtle-back greens, ranging from 425 to 1,000 sqm, are tricky yet challenging.
Precision distancing and pin placement to the greens are crucial as the greens are fairly large.
Fantastic finishing 18th hole, facing the clubhouse's restaurant, is a par 3 with 1,000 sqm green, and is one of a kind putting surface that seems impossible to miss.
But a careless shot left of the green could end up at the bottom of a small 3-meter-deep potted bunker, humorously called the "Big Ass", from which the escape is a real test.
The parting here will leave everyone a memorable experience every time you are at Siam Country Club Bangkok.
A great clubhouse and meticulous golf course accustomed to Siam Country Club await to welcome you with great fun and happiness in the game of golf.
We hear that many golfers may book a round before flying off, so the clubhouse have even installed some large lockers to handle their oversize bags too.
Source: https://aseannow.com