Transport Minister Arkhom Termpittayapaisith has told State Railway of Thailand (SRT) executives to speed up the controversial procurement of seven new trains for the Airport Rail Link by 2018.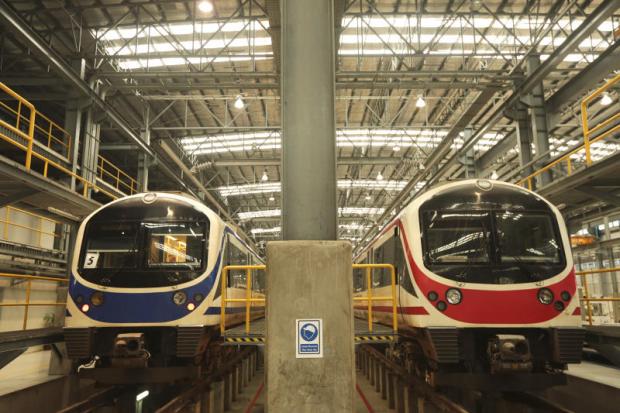 Two trains sit at a maintenance depot of SRT Electrified Train Co (SRTET), which runs the Airport Rail Link, in Soi Soonvijai on New Phetchaburi Road. Patipat Janthong
He said rising passenger numbers make it necessary to fast-track the 4.8-billion-baht procurement despite criticism the specifications laid down for the procurement favour Chinese company Changchun Railway Vehicles Co (CRC).
The procurement must also be accelerated because two out of the nine existing trains are being repaired and the others will soon undergo maintenance work, Mr Arkhom said after meeting SRT and Airport Rail Link executives yesterday.
The purchase and delivery of the seven new trains should be completed by 2018 when passenger numbers on the Airport Rail Link are expected to double from 60,000 to 120,000 people per day.
SRT executives also confirmed that Airport Rail Link management will be separated from the SRT by August next year, Mr Arkhom said.
Improved management is necessary because competition is expected to become more fierce when several other electric rail routes, which are under construction, begin operating in the near future, the minister said.
SRT governor Wuthichart Kalyanamitra insisted the procurement of the seven trains, each of which has four carriages, is transparent and does not favour any supplier.
He said the trains on offer from CRC are cheaper than the existing ones.
The cost of the existing trains without the engine car or propulsion system is 149 million baht per carriage while CRC is offering 135 million baht per carriage, Mr Wuthichart said.
The total cost of 4.8 billion baht includes 400 million baht worth of spare parts. For the existing trains, there were no spare parts included in the deal, which has caused problems now the trains need repairs and maintenance work, he said.
The transport agency was also criticised for not cancelling the procurement auction after CRC emerged as the only one of four interested companies to submit a bid, despite other firms buying bid application documents.
Source: http://m.bangkokpost.com/news/722220